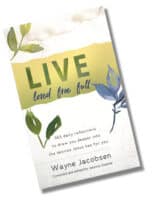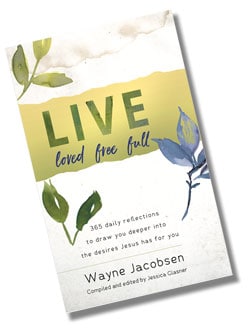 January 8 
So, back to our question of a couple of days ago: Would you want to follow God if there were no hell? Fear of hell was just about the only reason people got saved when I was young. No one wanted to jump through all those religious hoops unless the consequences of not doing were far worse.
Whatever hell turns out to be, it is the place where sin devours its prey. As tragic as that might be, the fear of it was never meant to be our motivation for following God. If we're going to sustain a journey in him, we need a more compelling reason than fear. And our friends and family need to hear an invitation that inspires them to consider God's reality better than this: "You're a horrible person and God is going to torment you if you don't repent."
That's what engages the Stockholm syndrome, rather than a real journey of love and affection. Besides, I'm not convinced fearing hell will be enough to save anyone. Oh, it might hold them in check for a few months at a time, but when the fear fades, as it always does, they will be back to their old self-destructive ways.
God's love for you is the only source of salvation and the only motivation that will untwist all sin wrecks in this world and the one to come. Taste that, and you'll follow him to the end of the world.
Taste and see that the Lord is good;  blessed is the one who takes refuge in him.
Psalm 34:8
___________________
This reflection is taken from Wayne Jacobsen's new book, Live Loved Free Full. Since the delivery of the print edition was delayed due to COVID issues in production, we are posting daily here until it is available.  The e-book is already out on Kindle if you prefer that version.  If you haven't pre-ordered your hardback copy yet, you can do so here. SPECIAL NOTE:  our books should be arriving today and we will get out as many as we can this weekend.
Artwork above is taken from A Man Like No Other: The Illustrated Life of Jesus by Wayne Jacobsen, Brad Cummings, and Murry Whitman.