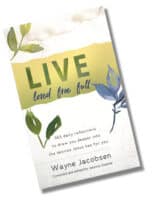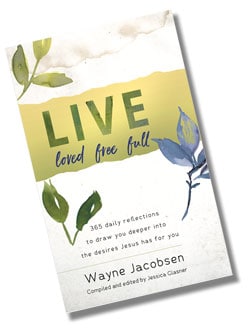 January 7
In the early days of my journey, fear and shame were constant if unwelcome companions. I was constantly afraid I wasn't doing enough for God to like me, and I was ashamed of my sinful desires. My shortcomings and failures were always before me since he commanded us to be as holy as he was.
However, that was not the relationship God had in mind for me, and it is not the relationship that would help know him or experience all he had for me.
Jesus didn't seem to live with his Father that way, and he was perfect. He called his Father "our Father," so that we could share in that relationship as well, and through it be transformed. So, instead of focusing his followers on their failures, he invited them to focus on his joy. He told them everything, "so that my joy may be in you and that your joy may be complete."
No one I knew in my young days lived that way. To us, God was a demanding deity, and we lived every day under threats, obligations, and a constant demand for perfect performance. Jesus pointed us down a different road because those who live like that cannot experience his fullness, and they won't effectively share his love in the world.
Fear and shame will not produce the work of God in us. Jesus showed us his Father was not a terrifying presence in the world, but the most endearing. Love is the coin of his realm, not fear and shame.
Therefore, there is now no condemnation for those who are in Christ Jesus . . .
Romans 8:1
___________________
This reflection is taken from Wayne Jacobsen's new book, Live Loved Free Full. Since the delivery of the print edition was delayed due to COVID issues in production, we are posting daily here until it is available.  The e-book is already out on Kindle if you prefer that version.  If you haven't pre-ordered your hardback copy yet, you can do so here.