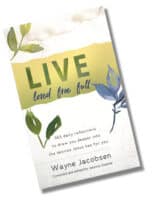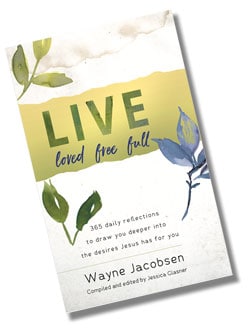 January 9 
Many people misunderstand the Old Testament—they conclude that God is the executioner in the redemption story. Stories like Noah's Ark, Sodom and Gomorrah, and Canaan's Conquest are enough to convince people that God is a terrifying presence out to destroy in anger the world he created.
Nothing could be further from the truth. There are times God intervenes in human history in ways that hold severe consequences for those who resist him, but if you look at the whole story, you'll see he is always the rescuer. His judgment is like the surgeon's scalpel—it sets things right in a broken world.
Sin is the destroyer, not God. Using our self-preferring nature and preying on our limited knowledge, it draws us into the darkness like captives. Because we go so willingly, we see God's actions against the darkness as actions against us. But God wants to break through the bondage and draw us back into his light and his healing.
Salvation, according to Jesus, does not come to those who try to appease an angry deity with their offerings or sacrificial needs. Salvation is found inside an affectionate relationship with the Creator of all. It is less about fixing our circumstances than it is about rescuing us from the lies of darkness.
Unfortunately, too many people confuse God himself with the religion we've created in his name. That makes it difficult for them to connect with him. People in relative ease often keep God at a distance. They take in just enough Christianity to soothe their conscience and to satisfy their fears about the afterlife, but they don't want too much of him because he might intrude on their pleasures.
Other people, caught in tragic circumstances or deep pain, call out to him, seeking relief by promising God they will do anything he wants. Neither of these will lead to a long and satisfying connection with him.
Do you need to be rescued? Ask him and let him do it however he decides is best.
"Because he loves me," says the LORD, "I will rescue him; I will protect him, for he acknowledges my name."
Psalm 91:14
___________________
This reflection is taken from Wayne Jacobsen's new book, Live Loved Free Full. Since the delivery of the print edition was delayed due to COVID issues in production, we are posting daily here until it is available.  The e-book is already out on Kindle if you prefer that version.  You can order your hardback copy here. SPECIAL NOTE:  Our books are in and will be on the way to you as soon as we can catch-up on our pre-orders.
Artwork above is taken from A Man Like No Other: The Illustrated Life of Jesus by Wayne Jacobsen, Brad Cummings, and Murry Whitman.