The last few months have been a strange time for me. As I was working on the new My Friend Luis podcast, I kept getting insight from the Spirit, signaling there was something ahead he wanted me to be ready for. These insights came in nudges from within, dreams and visions from other people, and specific Scripture passages that would leap off the page into my heart when I was reading. While these inklings were encouraging, they were far from specific. However, the inspiration within and the growth curve it has sent me on is nothing like I've experienced before.  I've shared some of that on my podcast, especially some insights about prayer that are reshaping my life in so many ways. It started with the Embracing His Glory insights and has continued on about praying with a different perspective and with others that feels like a jig-saw puzzle fitting together.
Last week Sara and I were in the Sierra Mountains with my 95-year-old Dad to celebrate Easter. Earlier that week, my daughter and grandkids came up for a few days, and we took a walk through the burn scar of the Creek wildfire. Over the next few days, I had this nagging thought in my heart that there was something God wanted me to see there, that I had missed. I talk more about that in a video on my Facebook page that I posted yesterday. It was recorded on Good Friday as I re-visited that area to share with you what I felt God was speaking to my heart.  If you missed that video, you could view it here.
I talk more about this experience in the podcast that will air this Friday morning at The God Journey, called "Settled in His Spirit."  Kyle and I talk about it in the first 12 minutes or so. Simply, as I contemplated what I had seen in the aftermath of the wildfire, my heart was drawn to Romans 8:18-21:
I consider that our present sufferings are not worth comparing with the glory that will be revealed in us. For the creation waits in eager expectation for the children of God to be revealed. For the creation was subjected to frustration, not by its own choice, but by the will of the one who subjected it, in hope that the creation itself will be liberated from its bondage to decay and brought into the freedom and glory of the children of God.
As I was thinking of this passage on my walk in the woods with my dog, Zoey, I was surprisingly surrounded by a rising sense of Presence.  Then, I heard two words in my mind: "It's time."  I knew instantly that the voice was referring to this passage. It is time for the children of God to be revealed. My body literally quaked. I'm not sure what all this means, but I am confident something is stirring. Every person I've shared this moment with sense has either already had something similar on the heart or felt affirmation when they heard it.
I'm not offering this as some kind of prophecy. I don't know that it has any end-of-the-world overtones to it. But I do sense the undercurrent of those who have been learning to live at rest in his love over the past few years will soon become more evident than the religious voices that so easily disfigure the face of God to the world around us. Now, I'm not looking for that to change in the media or Christianity Today to do a story on it because I don't think this is about new books, markets, and viral internet posts, but simply a stitching together of people loving selflessly those who cross their paths. God will make himself more evident to others, and we'll see that over the next few months and years.
I honestly know nothing more than that, but my heart has an expectancy about God's work in our world that it hasn't had in a while.  I feel no angst to make anything happen or think some book or project from me will turn some tide here. As things begin to unfold, the usual suspects will try to market it for their own gain or try to systematize it to put it under their control. I can tell you now, avoid such people and such activities.
This is a work of the Spirit that will have the breath of Father in it. It won't be in our control, though we can yield to his flow when we sense it. What is most important now is to keep learning what it means for you to be at rest in his love and to learn how he wants to play with you in the Father's working. This rises out of that reality, not the somber, terrifying tones of human effort.  All he asks of us is to present a willing heart, to keep our eye on him, and to be ready when he nudges us into the next opportunity.  That will involve some prayer and watching, but the fun kind, not the laborious kind.
And for those who are touched by what I share in the video, or you have questions about it, Kyle and I will be hosting a God Journey After-Show this coming Sunday at 10:00 am Pacific Daylight Time. If you want to join us, email me for a Zoom link to that session. We'll let in as many as we think we can manage, but it will also stream live on The God Journey Facebook Page for those who want to watch.
Please hear my heart here. I sense something stirring and am just putting it out there to see if others have similar insights. If God is in this, let's see what he unfolds over the next few months and years.
_______________________________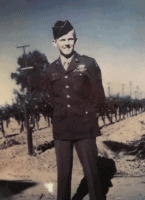 As a side note, during our time at Shaver Lake, a local radio station played an interview recorded with my dad a few weeks before about his experiences in World War II. You can find it here, along with photos from that era.