Live it! Live it! Live it!
The last thing this world needs is more people talking about relationship with God or better relationships among believers. What the world and believers alike are waiting for is people who will truly live it. My greatest prayer is that God will grace all who are willing to demonstrate what it is to love and trust him every day and to walk in relationships with other believers that demonstrate what an awesome family he is creating.
Pray! Pray! Pray!
Our most important need by far is prayer, and we do appreciate those of you who lift up our lives and this work to him whenever he brings us to mind. Often people send along notes of encouragement, or impressions God gave them that are an incredible part of his work among us. So, yes! Please do that! Pray for open doors where he wants to send us to help his people and the wisdom to know when he doesn't. Pray for the people who receive the materials we send out that God will touch their lives and draw them closer to him. Pray for the insight that will help people truly discover the vibrant relationship God wants with them. Pray to that God will continue to provide every resource we need to do what he has called us to do. To keep up with the latest information about Lifestream and Wayne's activities, you can track him on his blog, his travel page, and the podcast.
If you'd like to help us financially…
When we started this venture we were assured that God would pay the way for us to follow his leading. We do not ask for money in anything we send out and only mention it here for those who are interested. We don't ever consider costs when planning trips or giving our lives away. We give books away to those who can't afford them and go wherever Jesus sends us and touch others with the life he has given us. Sometimes our costs are more than offset by the people who invite us; at other times we go places where people cannot even cover our expenses in coming, much less help compensate for Wayne's time.
The cost of travel, Internet resources, printing and mailing are significant. For instance, each issue of BodyLife costs us $350.00 to print and mail the snail mail version for those who need it. However, we have always seen God provide whatever we needed–often in incredible ways and, too often, it seems at the last possible moment. Here's how our income broke down for 2007:
60% of our income came from books and tapes
10% came from speaking and consulting
30% came from individual contributions.
Amazing! We have been incredibly blessed by the generosity of people whom God calls to help stand alongside us in the task he has asked us to do. We are blessed by each gift and are committed to using whatever contributions we receive to further God's kingdom in the world, however God leads.
If God has put it in your heart to help us financially, keep reading. If, however, this page is making you feel guilty, pressured or manipulated, then please feel free to go elsewhere on our website. We don't want you to feel any kind of compulsion to give to this work. This page is simply to keep people informed who feel they might want to help out.
How Do You Do It?
Please don't feel that your gift has to be large to count. God provides for us in lots of different ways. If you'd like further information please contact us by email or phone us at (805) 498-7774.
To give, please visit our Online Giving Page – there you may give one time or setup a recurring gift.
You may also mail checks to the address below  Contributions to Lifestream are tax-deductible and can be sent to:
   Lifestream Ministries
1560-1 Newbury Rd #313
Newbury Park, CA 91320
   Phone: (805) 598-7774
   Fax: (805) 499-5975
   Email: Please use our Contact Page
   Online:
Thank you for your interest and your prayers. We are blessed beyond measure to do the things God has called us to do and are grateful for all the ways God provides for us to do this work. We pray that God leads you ever closer to him and releases you as well to touch this world with his joy and freedom.
Lifestream Ministries Board of Directors
Those who pray with Sara and me about the direction and opportunities that are before us, give input to the content of my teaching, and maintain financial accountability for all we do are pictured and listed below.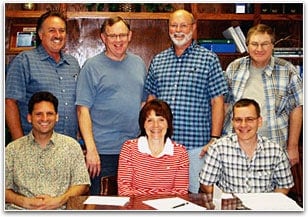 Back row, left to right: Nelson Schwamb 'pastor' from Selma, CA Wayne Jacobsen Lifestream, Newbury Park, CA Rich Artis CPA from Visalia, CA Jim Oliveras postal worker from Visalia, CA
                 Front row, left to right: Ron Brisco Engineer from Visalia, CA Sara Jacobsen Office Manager, Newbury Park, CA Phil Shannon CPA, Visalia, CA