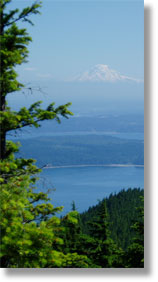 Well, our blissful vacation on the Olympic Peninsula ended early because of the constant shelling of our quiet seaside cottage by the neighbors on the hill behind us, who started celebrating July 1 with thousands of dollars of fireworks that began in the late morning and continued well past midnight on one evening. And it wasn't even the Fourth yet.
And I'm not talking about a few bottle rockets or some firecrackers, here. I'm talking about the full-on huge starburst explosions that you see generally only at stadiums and community events—scores of them, one after the other exploding over our roof. When Sara and I passed through a Native American reservation about 20 miles short of our destination and saw dozens of firework stands, I wondered if that would be a problem… I had no idea they were selling the really big stuff.
Sara and I could handle it, but our 10 year-old Shepherd could not. She was in a constant state of panic, so we left early and drove home on Sunday and Monday. We actually made it from Eugene, Oregon to Moorpark in one 14 hours stretch on Monday, a distance of 858 miles. Sara drove all but the last 100 miles of that. She's nuts!
The sudden end, however, didn't destroy the awesome time we had. We had lots of time just to be together, to read looking over the sea, to hike through the Olympic National Forest to high mountain lakes and waterfalls with our dogs romping on the trail ahead of us. And we didn't end our vacation, just because we got home. We still laid low, worked on some household projects and continued to enjoy our break. But today, we're phasing back in and starting to wade into the mountain of things that has piled up in my absence. I thought I'd get a jump on them
And continuing the theme of the latest podcast released today, I thought I'd let you know what I've been reading during this veg vacation—my favorite kind! In addition to the magazines I brought along, my book list turned out to be quite an eclectic mix. I arrived still finishing a novel of Vatican intrigue called The Third Secret, which I enjoyed except for the last 10 pages, and Don Miller's, Searching for God Knows What, which in the end I didn't enjoy nearly as much as his first, Blue Like Jazz. Then I read an unpublished manuscript called Divine Nobodies by Jim Palmer, which will be published later this year. I really enjoyed the honesty and humor of someone's journey shaking fee of religion to embrace a real relationship with Jesus. Then it was onto Robert McCullough's 1776, which was not at all what I expected. It is the story of Washington's Continental Army through that year. It was riveting and I was shocked at how little I knew of the war of revolution during that time. Next up was C.S. Lewis' 'Til We Have Faces, which I consider to be his best fiction. It's a story I've read four times before, but it had been 20 years since the last reading. What a story! I'm going to quote a piece from it in a future blog. Finally I started a Michael Chrichton Novel, State of Fear about global warming.