If you know my wife, Sara, you know there are two things she loves other than family: gardens and dogs. The picture above is of her garden, in which she spends countless hours creating a beautiful space in the world. She's also one of the most conscientious dog lovers on the planet. Whenever a new pup comes into our home I shake my head and tell her she has won the dog lottery. You wouldn't get more love and care from anyone else on the planet. If you ever visit our home, believe me you will want Sara to treat you like a dog! It's a high honor here.
Occasionally those two loves come into conflict as they did a couple of years ago. We'd just gotten Zoey, a yellow lab/golden retriever mix that was eight weeks old. I immediately left on a trip and when I returned I was writing in my study when I saw some dirt shoot across one of the walkways in Sara's garden. I looked more closely to see that the new pup was inside one of the hedgerows digging up some freshly planted flowers. Sara was in the back of the garden, seemingly oblivious to the problem in the front.  I felt bad for the new puppy because I knew what was coming—a firm scolding and a swat on the rear-end. Teaching our new dogs to respect the garden has always been a steep learning curve.
As I walked outside and into the garden, I stood looking down at Zoey. She sat in a large hole with dirt and shreds of flowers thrown everywhere around her. She looked up with a dirty face, huffing and puffing, grinning with delight.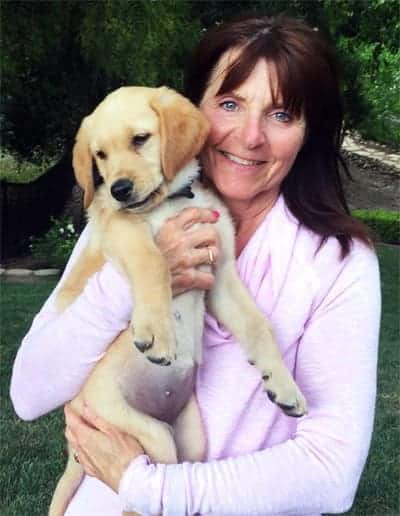 "Babe," I called out to Sara in the back of the garden. "Do you know what's going on over here?"
"With Zoey?" she responded without even getting up or turning around.
"Yeah, with Zoey."
"I do." She didn't seem concerned in the least.
"What do you know?" I couldn't believe she wasn't on top of this.
"She's digging up my flowers."  So, she knew!  This made no sense.
By this time, I had come to where she was working and asked her what was going on. "Why aren't you training her?"
"I was thinking how none of my dogs ever come out to the garden with me when I work here and I wondered if it's because I get on them for playing in the garden.  I'm trying something new with Zoey.  I want her to enjoy my garden and me in it, so this year she gets to do whatever she wants out here. Next year I'll teach her how to be in the garden."
As Sara said all this, I was hearing a voice greater than hers. Wouldn't that be God's heart? Would he want us to enjoy him, and by doing that learn how to live in the fullness of his life and joy.
But religion taught us God was easily angered and most often disappointed in us. Even though the Westminster Catechism stated that humanity's "chief end is to glorify God, and to enjoy him forever," most Christians I met growing up didn't seem to enjoy God. They feared him. They tried to obey him. Sometimes, they even resented him. I was never taught as a young man how to enjoy God and the life he has given us on this planet, even through its difficulties and pain. It's only been in the last couple of decades that I've learned to enjoy God and his work in me; to want to be in his garden every day.
It's clear to me that if people don't learn to enjoy God they will not long follow him. They will manage his presence in their life, more in fear than endearment, obligation rather than joy. I know when I got saved people immediately started telling me the theology I had to believe, the rituals I had to observe, and the rules I had to follow. It did not lead me to enjoy God or participate in his work in the world. Maybe if we taught people to enjoy God first, they would follow him with joy to the ends of the earth.
It worked on Zoey. Now, whenever Sara goes to her garden a ninety-pound lab follows right behind, her tail wagging enthusiastically. She hasn't dug up anything over the last couple of years and when I watch them in the garden together, I know that Sara got what she wanted most—a beautiful garden and a friend to share it with.
That's why Jesus came to live among us, "so that his joy might be in us and our joy might be full." Father never wanted the resentful obedience of fearful slaves, but a joyful relationship with his beloved children inside his creation. Learn to enjoy God, and everything he wants to do in and through you will come to pass.
It is his pleasure to share his kingdom with us, even if we do make a mess now and then!
___________________
If you'd like to learn more about enjoying Father's love, you might try He Loves Me. I will not write a more significant book than this one. The content of that book was what helped me learn to live in the affection of the Father, rather than trying to appease him by my performance.  We also have a Spanish version of this book that we give away for just the cost of postage. Email our office for details.