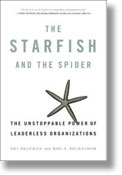 I'm reading a fascinating book that someone recently recommended to me. It is NOT a Christian book. It's a book about an emerging business model written by a couple of Stanford grads, which makes it all the more frustrating. Why is it that the world sometimes recognizes what God is up to far sooner than most believers do? Our religious institution were consistently on the wrong side of creation of democracy, the fight to abolish slavery, the struggle for civil rights and respecting the rights of women, and here's just another example of how they are caught in older forms the world is even reconsidering.
The Starfish and the Spider: The Unstoppable Power of Leaderless Organizations describes almost exactly (with one major flaw to be discussed later) how I understand the nature of the early church and what I see to be true in the body of Christ as it functions today in the world. Now, I'm not talking about organized religion here, but people who really have a heart for God and his work in the world.
The spider represents traditional organizations with CEO's, hierarchical structures and heavy top-down management. If you cut off the head of a spider it dies. The starfish, however, represents decentralized communities that are far more effective and resilient. If you cut off the leg of a starfish, it will just grow a new one, and the leg itself will grow into another starfish. The starfish has no centralized brain, it is a system of neural networks that work together.
Granted the subtitle is a bit misleading. The authors aren't really talking about leaderless organizations, but decentralized ones. Citing examples like Alcoholics Anonymous, Craigslist, Wikipedia, eMule, and others, they describe the power of individuals working together in ways that create incredible resources with surprising results:
This book is about what happens when on one is in charge. It's about what happens when there's no hierarchy. You'd think there would be disorder, even chaos. But in many arenas, alack of traditional leadership is giving rise to powerful groups that are turning industry and society upside down. (p. 5)
These starfish communities have tremendous power because they are not bogged down by the needs of an institution that compromise the values of the community itself. The contributions of the individuals who share a common passion are having far more impact than conventional institutional models. These communities prize relationship, engender trust, and pursue a purpose that transcends financial reward. One of the best discussions in this book is how leadership functions in these communities. They are not managers, but catalysts to ignite a passion in others and help them live it out. What the authors describe for a catalyst comes a close to the teachings of Jesus and the examples of the apostles in the New Testament as anything I've read before. They work behind the scenes, empower others, help people connect in circles of relationships, and never try to ensure that everything is orderly and certain. And what's best, they never want to be in charge themselves, knowing how to work themselves out of the picture as others flourish.
They are much better at being agents of change than guardians of tradition. Catalysts do well in situations that call for radical change and creative thinking. They bring innovation, but they are likely to create a certain amount of chaos and ambiguity. Put them in a structured environment and they might suffocate. But let them dream, and they will thrive. (p. 131)
The Starfish and the Spider discusses the unique power of the Internet to allow these kinds of starfish communities to flourish. And, yes, these people are motivated by their self-interest. Imagine these decentralized communities, however, where people are functioning in the interest of Jesus himself. What this business model leaves out, of course, is the place of Jesus as the sole Head of his church that can never be destroyed. Imagine how the body of Christ could arise in our day if we experienced the power of these decentralized communities as people who are all listening and responding to him.
The world is now discovering the power of decentralized organizations in a way that we could have been living for 2000 years. I'm sure many believers did in those past generations, but unfortunately the powers of religion have always gravitated toward heavily authoritarian, centralized models as a means to amass riches and power. I love that so many of us are now discovering a different approach to life as the body of Christ that liberates us from the repressive institutions that destroy people to the freedom to demonstrate who he truly is in the world.
If that's your passion, this book will show you just how powerfully it can happen. And if the business world can do it without Jesus, how much more powerful would it be for a community of people to live and work together like that who have surrendered their lives to Someone far greater than themselves. Maybe it's time more of us embraced a new way of seeing the community of believers and how they can function in the world.