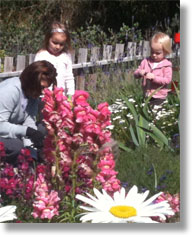 I told this story on last week's podcast, and a friend of mine typed it up for his Facebook page. I reprint it here (with some gentle edits), because the story is growing in our family to understand something about God's nature and our own. When we try to defend what God isn't defending, we only end up hurting people and spoil the very thing God is using to engage them in a relationship that will in time transform them naturally, without having to enforce a lot of rules.
The grandkids were over. We were in Sara's garden. And Sara had gotten Amy a rake and she was raking up some of the wood chips that Sara has on the pathways in the garden. I said to her, "No, Honey, don't do that." And I began raking them back in the path. "They are not supposed to be in piles; they are supposed to be spread out."

Amy gave me the look, as if to say, "Gee, that's no fun, Grandpa." I obviously ruined her fun by telling her the way things were supposed to be. I didn't want to be that guy!

Later, after everyone was gone, Sara said to me, "You and Julie are funny in my garden."

"What do you mean?" I asked

"You are always fussing about the kids. Don't rake that, don't pick that flower, or walk over there. I don't really care. I want my grandchildren to really enjoy my garden and I want them to really enjoy being with me. I don't care what they do in my garden as long as they are not going to hurt themselves or each other, or destroy something. I don't care if they pick flowers, I don't care if they rake the wood chips into piles. I can un-rake them easy enough."

As I listened to her I thought, I don't care if they are raked into piles either. I was just trying to protect Sara's garden. I know she works hard to keep it looking nice. But why was I trying to defend something Sara wasn't defending herself? For her it was about the joy of relationship. She wanted them to have fun in her garden so they would have fun with her.

When I heard her say that I immediately thought of how I often I've done that to other people in God's garden. He's inviting them into a relationship while I'm trying to make sure they don't mess anything up. What if God doesn't care what they mess up while they are growing in relationship with him?

The God Journey Podcast, July 30, 2010
What a lesson! When you put the relationship first, keeping things neat and tidy no longer makes sense. Those things can be fixed easily enough. What God cares about is enjoying his kids long enough until they care about the things he cares about. In the meantime, that might mean some piles get raked up in places he doesn't need them raked up.
But he can put them back easily enough when we're done.