First, an announcement: Our offices will be closed August 5-16 as Sara and I will be on vacation and have no one to cover the office. We will not be able to fill orders during this time, so please order before that date if you need any of our things before we return. Or, you'll have to wait until after, with our apologies for any inconvenience that causes. Now to some good stuff: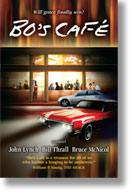 John Lynch is one of the author's of Bo's Cafe, one of the best books I've read about sorting through brokenness in a marriage through a real engagement with grace. Last Friday as he was going out the door to do a wedding, he posted this on his Facebook status, even though it was up only briefly.
"I perform another wedding tonight. I always wish I could show a DVD of what is coming up. How they'll deeply hurt each other, selfishly try to win, blaming the other for how their life is not working, how they'll want to run… until devastated, they each call out to God and learn to trust this new life He's given them. Then they'll begin to protect, love and enjoy each other. He adores them. He'll make it happen."
I think I understood why he pulled it off. That's not the kind of picture you want for a wedding night, but it is nonetheless true! Sara and I feel something similar every time we see a young young couple installed as the new associate/youth/singles pastor on staff at a large church. They are so excited to be offered the opportunity; they have no idea how brutally they will get hurt in that process.
But the greatest hurts of all are marriage hurts, I'm sure, and finding a way for both to put the other first is a process often laced with pain. Perhaps marriage is the first relationship where our selfishness really comes into play because you can't hide yourself 24 hours a day. It's probably a good thing none of us knew how much pain would be involved or else we probably wouldn't go down that track and learn what we needed to know to find real freedom. Only when we finally come to the end of our ways and realize that even if we can manipulate people into giving us what we want or think we deserve, it will still not bring happiness.
But there is hope. Did you see it at the end of John's lament? Through all the selfishness, pain, lies, and manipulation God can still win us into the space where true love flourishes and true life begins. If you're in the middle of the pain, call out to him. Embrace his love for you and ask him to teach you not how to get others to love you, but how you can truly love others. It's too bad most people only hear it when they are finally broken and desperate, but even there is a great place to start.