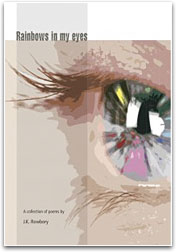 And now you know why Jenny's book, Rainbows In My Eyes has been such an encouragement for me at this stage of the journey. Her pain is far different from mine, and in many ways far more brutal, but her poems (and I'm not a poem guy!) have encouraged me to lean in more deeply into the heart of Jesus and know that he is at work in ways I can't see.
If you missed my blog on that and some samples from her book, you can read it here. The line between tragedy and triumph is not a wide one in the heart of God. I love how he continues to work in our lives no matter what this world throws at us. And Sara and I have found this book makes a great gift to someone going through difficult moments. We gave a copy the other night to some dear friends who are going through a painful season, and have heard back from many of you how much you have been inspired by her words.
If you want to order the book you can do so at Lifestream if you have a U.S. or Canadian address, or if you're from elsewhere in the world you can order direct from Jenny's website: JKRowbory.co.uk.