In the home stretch now to finishing my new book. At the moment we're playing with the cover. We've been using the one in the thumbnail at left as we've been going through this process, but now some other ideas have emerged. The problem is I like them all! Good problem to have I guess. But I wanted to get some input from others on this. We are looking for a cover that expresses the heart of the book, but at the same time catches someone's eye. It needs to be provocative and intriguing to draw people into an amazing story of how his church is finding expression in the world.
To help, here are some excerpts that get to the heart of the book's message:
Now I know that this new creation could never be contained in a human organization. She may exist alongside it, but she transcends it in the same way Jesus transcends the old creation.

The church Jesus builds is a family living in the growing reality of his affection. That's why Jesus said he would build his church because we are not capable of doing so and our attempts have always distorted her image and hurt others in the process in spite of whatever good they have done. Jesus established his church by inaugurating a new creation of men and women who would live beyond the human conventions of society. It can only be expressed in the interaction of lives he is transforming.

His church does not arise from the old creation and thus will defy all our attempts to contain it or manage it. His church is a reality we recognize as our relationship with him grows. Our task was never to build it, but only to give ourselves to the new creation and watch as his church takes shape around us as he links our lives with others. We don't have to name it or try to control it, but simply cooperate with her as long as she takes expression around us. When it served its purpose we can let go of that expression to see what he will do next. The relationships endure, not necessarily the task or the program that gave it shape.

There is more in the Gospels to commend this view of church than anything that points us to the religious systems we have created instead. Jesus was quite clear about the nature of his church, we just missed it because we never considered that he told us everything he wanted us to know about the church.
So which cover below most appeals to you and why? Comment here or on Facebook if you'd like. I know opinions will vary, and I can't promise we'll select your first choice, but the interchange will be extremely helpful to me. Thanks to all who contribute.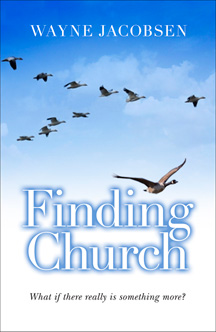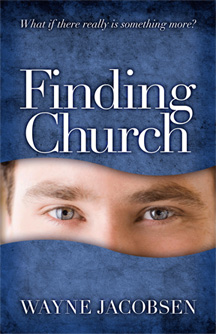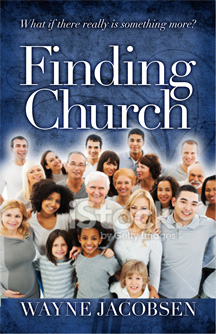 All three covers were designed by Dave Aldrich at Aldrich Design