I've got some new pictures to share with you from our friends in Kenya and some news to pass on. The wells in North Pokot have been completed and are fully functional. The schoolrooms and pharmacy superstructure is complete and they have begun finish work inside. The people there are so grateful to the volunteers from IGEM and to those who have contributed money toward their need. Over the last few months your generosity has placed almost a quarter of a million dollars and countless hours of volunteer work into their impoverished tribal lands of 120,000 people. If you missed the story of how all that happened you can read it here.
The needs, of course, continue to finish the rooms, equip them, and help support the staff who will help with education and medical needs. There is some talk now about expanding the dispensary into a small field hospital to treat those who have no place else to go. We are currently working that through channels to see if that is a possibility. I know we cannot meet every need in Kenya so I'm trying to remain sensitive as to what God has asked of me and what I have to say no too. Coming from a wealthy country those lines are not easy to find. My heart goes out to people who have so little when we enjoy so much in this country. My prayer every day is that God will give us wisdom in all of this and that their depence will grow on him not on Lifestream or The God Journey. This isn't easy!
Also, Im wrote previously about a pharmicist from Australia who has taken a personal interest in this project. Her name is Rashida Cottrell and not only is their family sharing in the need there, but she is also going to be competing in a Tough Mudder run as an incentive for others to give as well. This is a great story of passion and support. You can get more details here or you can Rashida her for more information. If you'd like to support her efforts and you're from Australia you can do so and get a donation receipt. If you're in the US and want to support her you can give to Lifestream in her name and we'll forward the funds on to Kenya and let her know that you helped her.
I find myself both overwhelmed with gratitude at the generosity of so many of you and by the ongoing need in that corner of the world. Who knew that God could open a door for my connections on the web for just such a time as this for people who are in such great need. Your prayers are most welcome for the people in IGEM and those in North Pokot. If you can and want to help financially you can direct it through Lifestream as contributions are tax-deductible in the US. As always, every dollar you send goes to the need in Kenya. We do not (nor do they) take out any administrative or money transfer fees. If you would like to be part of this to support these brothers and sisters and see the gospel grow in this part of Africa, please see our Sharing With the World page at Lifestream. You can either donate with a credit card there, or you can mail a check to Lifestream Ministries • 1560 Newbury Rd Ste 1 • Newbury Park, CA 91320. Or if you prefer, we can take your donation over the phone at (805) 498-7774.
Here are the new pictures: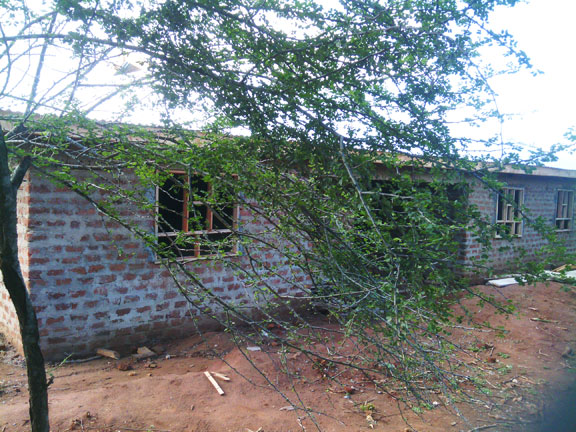 The work on the dispensary continues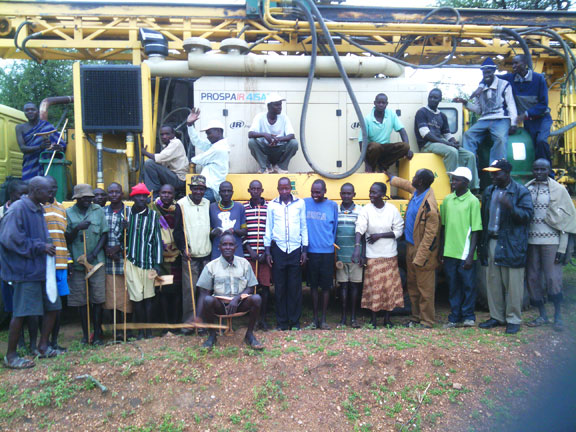 With grateful hearts the people of North Pokot say good bye to the well drillers.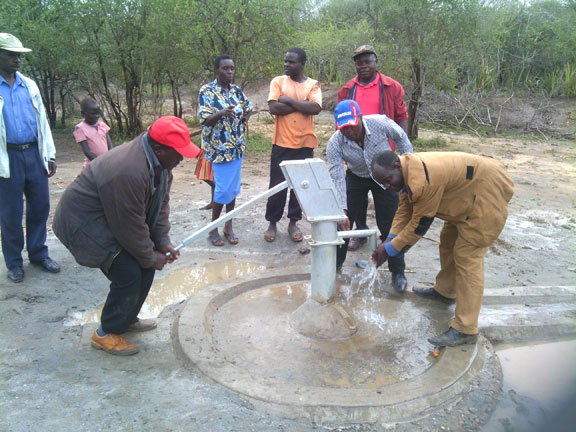 The water flows freely in North Pokot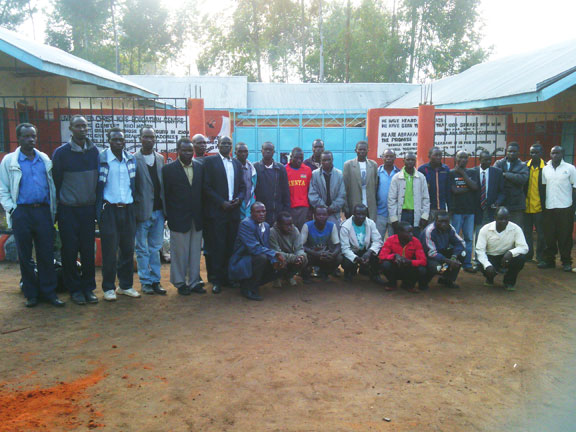 The volunteers who built the schoolrooms and dispensary arrive back in Kitale