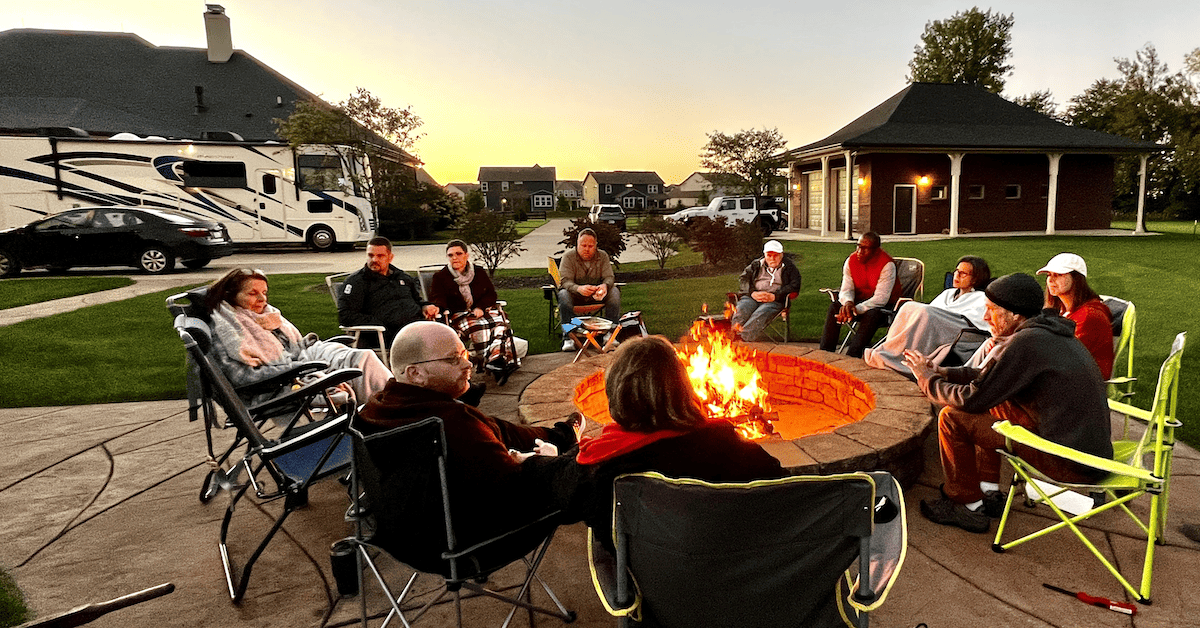 Years ago, I heard a mission statement someone had crafted: "I want to have conversations that matter with people who care."
When I heard it, I knew instantly that this was the part of my life I treasured most. Above any recreational pursuit, athletic competition, or entertainment option, what I enjoy most is having a conversation that makes a difference in my life or someone else's because we care about finding our way into Jesus's fullness. Of course, that is most meaningful when it happens with Sara, my children or grandchildren, other family, and close friends.
But Jesus has also allowed us to have thousands of conversations like this with people worldwide. Many of those have become close friends with repeated opportunities to grow our friendship. That's why I enjoy doing the podcast and interacting with those who listen, helping them further the conversation with their friends and family. Rich conversations are the treasures that transmit the kingdom.
I read something the other day that helped me see some ingredients that help conversations matter. A psychologist writing about emotionally abusive people said they are incapable of engaging in "mutually respectful relationships that require consideration, empathy, compassion, and kindness." I find that so incredibly sad because the relationships that allow God's grace to unfold require those exact things—mutual respect (especially where people don't see things the same way) as well as consideration, empathy, compassion, and kindness. Those attributes open the kind of dialogue that sets us at ease even in our struggles, helps unravel pain, and allows his truth access to our hearts.
I've always got my eye out for conversations that open doors in people's hearts. I find them everywhere—in our neighborhood, with a worker at our home, phone calls, and gatherings. I pursue them with people God connects me with and intentionally take to time to let relationships grow.
Sara and I will leave California on our second RV trip in two weeks. We'll go first to Denver to visit our son and then head east, though not so nearly as far as last time. Our itinerary is still flexible, though we are headed to some planned events near Little Rock, Arkansas, and Austin, TX. There's plenty of room to add other conversations around that as we travel.
We're doing it pretty much like last time—going where the Spirit seems to lead and staying as long as we need to. Here's a rough framework, however, of what that could look like:
Denver, CO – September 7-13
Wichita, KS – September 15-17
Kansas City – September 18-20
Belleville, IL – September 21-24
Little Rock, AR – September 29 – October 1
Austin, TX – October 6-8
San Antonio, TX – October 11-14
Then, we head home, possibly back up to I-40 through Dallas or Lubbock. We're not sure yet. But we will go through Albuquerque and Flagstaff on the way home.
So, if you're along this route and have some people who would like to connect with us, please contact me through email. Then, let's trust that if God wants us to be together on this trip, he will arrange our schedules accordingly. What will we talk about? Whatever you want to. We no longer set the agenda but wait to see what will most help their journey. Themes from my books and podcasts almost always come up, but that's a wide range of subject matter:
Living loved
Dealing with trauma
Finding community
The Jesus Lens (a freeing and meaningful engagement with Scripture)
Recognizing the Spirit's nudges
Growing trust, and
Compassionate and humble engagement with the world
Sometimes, we'll cover a bunch of those in the same conversation.
And we meet almost anywhere—in homes, parks, restaurants, or by the campfire next to our RV.
Please don't hesitate to email me if something is on your heart. We may not be able to work everything in, but we will see how the Spirit leads. As a fun aside for this trip, we plan to visit some of the Presidential Libraries along our route. Let us know if you want to join us for one of those. And, yes, we will have plenty of alone time for God's work to continue unfolding in our journey.
After finishing the Jake Colsen Fan Club, several people asked if we could do one through He Loves Me. Now would be an excellent time to begin, so beginning next Sunday, August 27, we're going to initiate the He Loves Me Book Club for those who want to go through a chapter-by-chapter focus on the themes in that book. It's always tricky with an audience as spread out around the world as this one to find a time that will work for everyone. We are going to start at 1:30 pm PDT and work from there. I know it is late in Europe and early in Asia and Australia, but if we have enough interest from both, we may have two different sessions, so one will be in the evening in Europe and late morning in the East.
We will coordinate this book club through a Facebook Group that you are welcome to join. We will continue the discussion there as well as post the Zoom links. If you're not part of Facebook and want me to send you the link, please email me here.
As I said, there is nothing more compelling than conversations that matter with people who care. Here are some ways to connect with us, but I hope you're finding meaningful conversations in your own relationships.