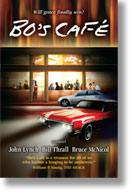 I had lunch today with some of the people who came from out of state to be part of our recording in the Indianapolis area. We had a great time. I enjoy conversations so much more than lectures…
Anyway, during lunch one of those present wanted to thank me for my involvement in helping bring Bo's Café into print. Here's what he said:
What The Shack did for my relationship with God, Bo's Café did to help me find freedom from my anger.
He went on to tell us the story of how God unplugged a deep-seated anger in his life after reading the book three times. He'd been looking for this freedom all his life. What a great story and a great comment about the book.
That's why I was excited about Bo's when I read it. Here was a man trying to control everyone else out of his own fears, and then he comes to face to face with grace. It changes him in a wonderful way. If you haven't read it, you might want to check it out.