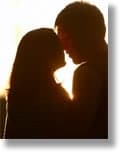 In response to my recent article in BodyLife on Sexual Struggles on the Relational Journey, I received some wonderful emails from people in the midst of this struggle and from those who are deeply saddened by how our culture has cheapened sexuality in our day and how young people are succumbing to its seductions. It appears it was long overdue to bring this subject into the light of fellowship.
One brother wrote me an extended account of the freedom God is brining into his life and how God used one book in particular to put his finger on the source of sexual bondage in this brother's life. Even though I know his story and solution will not fit everyone, I think it will be an encouragement to those who struggle to believe that God can get to the root of their bondage and set them free as well. Here are a couple of paragraphs of his email and a link to the rest of his story…
I just read your
reply to the young wife
and mother whose husband is struggling with pornography. I wanted to share what God's been showing me and walking me through with this issue. As you know, I've been addicted to pornography and habitual masturbation since I was in junior high. I've never really understood why it's been such a strong part of my life until recently.
I've been working through a book with two of the men in our group. We've been going through Wild at Heart, by John Eldredge. My brother got it for me for my birthday and I looked at the first chapter and put it down because it seemed like another "Christian self-help" book extolling the wonders of the religious system. My wife looked through it and said there was some really good stuff in it. My brother kept asking if I'd read it yet and since it was important to him and my wife said it might be good, I started it.
I started reading it on a flight back home from a business trip and while reading into the third chapter it seemed like God just started speaking to the empty areas of my life. I started crying on the plane and then wrote Jen a five-page letter just sharing my heart with her. I've since been meeting with two older brothers that are more like father figures for me, and we've all been walking out what it means to be masculine in the heart of God. It seems like almost every week more and more of God's call for my life is being revealed and understood. The way I view women and especially my wife has changed dramatically as well as the way I parent my children…
You can read the rest of his story here.