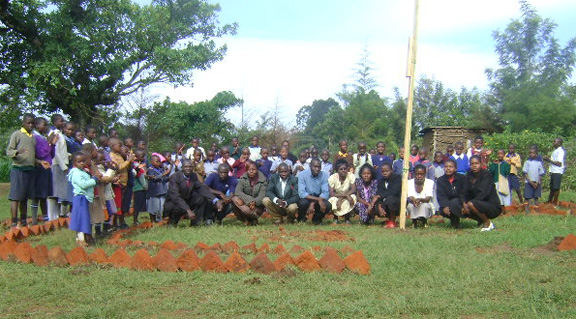 Staff and students at the Living Loved Children's Centre in Eldoret, Kenya
I'm sorry I've not written in awhile. Life has been pretty complicated over the past few weeks as we're hard at work on the Jesus Lens and a few other projects. We are trying to pace ourselves here, but at times it seems a bit overwhelming. We do appreciate the support and encouragement so many people send our way. We should have some new announcements about the recent recordings in the next few days. But we're going to enjoy a long holiday weekend and find some rest before we get too deeply into that process
Before we do, I wanted to update you of the ongoing need in Kenya. I've been blown away, as have the folks in Kenya at the generosity of so many who have helped get this new facility purchased, built, and staffed. A look at the picture above shows such joy and promise as these children are at a school assembly and are beginning to learn in their new environment. Unfortunately the government requirements of setting up this facility and purchasing curriculum and school supplies for the students has used up most of the money they needed to feed the children and support the staff. My commitment to them was that we would find them two years worth of staff support and food, while they looked for ways to support the children beyond that time-frame.
We need about $2,000.00 per month for the next 22 months to help make that happen. And that isn't a hard figure. Costs for food have risen significantly just in the past few months and by what I can tell they are not at all being feed extravagantly. So, I thought I'd mention it again for those who want to support this project with us. We send them additional funds today beyond what we have received from others as our way to help them through a tough spot. If you can join us, please let us know.
For more information on our project here, you can read this earlier blog. If you would like to be part of this to support these brothers and sisters and see the Gospel grow in this part of Africa, please see our Sharing With the World page at Lifestream. You can either donate with a credit card there, or you can mail a check to Lifestream Ministries • 1560-1 Newbury Rd #313 • Newbury Park, CA 91320. Or if you prefer, we can take your donation over the phone at (805) 498-7774.