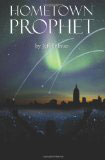 I should have known better. In order to preview this book, Hometown Prophet by Jeff Fulmer, I had to promise to write a review on my blog within 30 days. I have never made that commitment before. I usually tell people I'll read 25 pages or so and see if it captures me as a reader. If so, and I can recommend it, I'll do so on my blog. But I was intrigued with the storyline, so I told them to send me a copy. For the first half of the book, I was glad I did. I found myself casually recommending it to other people, with the caveat that I was only a third of the way into it, or when I was half way through.
The premise was brilliant. An unemployed young man, living at home with his mom begins to have dreams that appear to be from God. When the dreams come true, the Christians rally around him as a prophet. Then, the foretelling dreams begin to hit closer to home and the celebrated prophet becomes a pariah in the Christian community. There was so much about this set-up that I enjoyed, not the least was having God visit someone who wasn't living a stellar "Christian life." I liked the beginning conflict with those who had more vested interest in the status quo than in what God might actually be doing. The author is an engaging storyteller, making me believe the story and endearing me to its characters. I was hooked, until I got about 60% into the story. That's when it all went wrong.
AT that point the characters surrounding our hero became horribly stereotyped, as did the liberal agenda that began to bleed from the pages. The dreams turned out to be less about God inviting people into a transformation with him and more about Christians become more politically liberal. Here's where the author's agenda really turned me off. I do think God would have us to be more loving especially to the poor and downtrodden, and I wish believers were more committed to good stewardship of the planet, but to have the story end there really cheapened what was going on in Peter, the protagonist in the story.
I have rarely been this unsatisfied with the ending of a story that started out with such promise. As I read the early portions I was intellectually salivating with the possibilities of how this story could turn out. In the end it didn't satisfy any of them. Now, I don't know Jeff, and his whole purpose in writing this story may have been fulfilled by its ending. I don't begrudge him that. But in the end, it is not a book I'd recommend to others here. So, I guess I won't be making that commitment again any time soon.