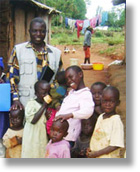 Over the past year, due to the generosity of many of you, we were able to send $85,100.00 to Kenya to help complete the orphanage, pay school fees for orphaned children, and assist with famine relief in Kenya. We have bee blessed at every turn to see the generosity of saints here, and the loving appreciation of saints there.
Last week I received this email from Michael, the brother God has given us to work with there. His gratefulness and blessings go to all of you who have been part of this amazing relationship with us:
Dear brother Wayne and the entire team of the saints around the world,

I would like to take this opportunity to send my gratitude to our Lord and Savior Jesus Christ, who has joined us together to build up the body of Christ and also to be a vessel to touch the lives of brothers and sisters in order for them to know who is really Christ, the people would not see Christ until they would see the image of Christ in us.

The church of God in Africa, has walked only with the doctrine and the judgmental message for long time and it was my long time cry to see the transformation from the hearts changing the way of focused in the church of God in Africa. These are the brothers and sisters for whom Jesus died and they must see the light with supernatural power to touch and to change the lives of every individual. This truth has been hidden for so long but our Lord Jesus Christ had a plan to work on His way to help the church of God in Africa to come out from human understanding to spiritual enlightenment.

So I thank God that my spiritual eyes have been opened to know the mind of Christ towards his people and I would like to thank God through you brother. I am not thanking you because of the resources that you have been sending alone. That is part of it, but spiritual enlightenment as well that I can realize the purpose of Christ to choose to sacrifice His life that we may be redeemed once more and have the fellowship time after time in daily life. This must become lifestyle—walking with Jesus. This is beyond the Sunday service, or certain fellowship or human structure/schedule.The transformation is taking place, it is my great joy people to come out from traditional religion which have bound brothers and sisters for so many generations that it has become routine and practice for many generations.

I can remember in the book of Acts Paul was sharing with the brethren that as he had read an inscription on one of their idols, "to unknown God". Paul was emphasizing that he had come to share with them to the same God which they had been worshiping as the unknown God. So I thank God for the wisdom which God has given you. The time you first step in Kenya with brother Kent, you could see a lot of errors in Africans church, these inclusive hierarchy, title, positions, structures, institution which people called the churches. You didn't judge us or point fingers but you shared the message of love and through that, that word had became a medicine to heal the entire continent just with the small group you began with.

You practice faith with action, along with your brethren over there to feed the hungry, to cloth the narked, to put the shelter to the homeless, to help the widows, to the rescue the orphans, to educate the needy and to help those who were oppresses, those are the key which has opened the gospel of Christ to get breakthrough and to change the lives of people from the small group to the Nation and even to Nations.

So it is our prayer that God gives you wisdom and understanding revelation that we may reach the entire world with the Gospel of love. We don't have anything that we can give you, but I can just only pray for you and give you the below encouraging words and verses along with your family and sends these message scriptures to the entire brethren who have prayed and give out the gifts whether in financial or any other help:

Matthew 10:42 – And whoever gives one of these little ones even a cup of cold water because he is a disciple, truly, I say to you, he will by no means lose his reward."

2 Corinthians 9:13 – By their approval of this service, they will glorify God because of your submission flowing from your confession of the gospel of Christ, and the generosity of your contribution for them and for all others.

Proverbs 19:17 – Whoever is generous to the poor lends to the LORD, and he will repay him for his deed.

1 Chronicles 29:11-12 – David praised the Lord before the entire assembly: "O Lord God of our father Israel, you deserve praise forevermore! O Lord, you are great, mighty, majestic, magnificent, glorious, and sovereign over all the sky and earth! You have dominion and exalt yourself as the ruler of all. You are the source of wealth and honor; you rule over all. You possess strength and might to magnify and give strength to all. Now, our God, we give thanks to you and praise your majestic name. "But who am I and who are my people, that we should be in a position to contribute this much? Indeed, everything comes from you, and we have simply given back to you what is yours.

2 Corinthians 9:8 – And God is able to make all grace overflow to you so that because you have enough of everything in every way at all times, you will overflow in every good work.

Galatians 6:9-10
So we must not grow weary in doing good, for in due time we will reap, if we do not give up. 6:10 So then, whenever we have an opportunity, let us do good to all people, and especially to those who belong to the family of faith.

2 Corinthians 9:10-15 – Now God who provides seed for the sower and bread for food will provide and multiply your supply of seed and will cause the harvest of your righteousness to grow. You will be enriched in every way so that you may be generous on every occasion, which is producing through us thanksgiving to God, because the service of this ministry is not only providing for the needs of the saints but is also overflowing with many thanks to God. Through the evidence of this service they will glorify God because of your obedience to your confession in the gospel of Christ and the generosity of your sharing with them and with everyone. And in their prayers on your behalf they long for you because of the extraordinary grace God has shown to you. Thanks be to God for His indescribable gift.

ROM. 12:11-13 – Never be lacking in zeal, but keep your spiritual fervor, serving the Lord. 12 Be joyful in hope, patient in affliction, faithful in prayer. Share with God's people who are in need. Practice hospitality.

Our prayer also goes to the girl (Jesus knows her name) who made the dolls to help raise money towards Living Loved Christ Hope Education Center. The children are praying for her. I shared the message with the kids and they want her picture. Our prayer also goes to the donation of the students who are orphans in different schools whom you have been helping for the education in past years, our prayers also goes to those who stood in the side of relief, medication, microfinance, in widows program, single mother both in Kenya, Uganda and Rwanda, Burundi and Tanzania,

Thank once more for having the trust for me,and trusting my hand to guard the gift as on behalf the church. In Africa we have thousands of believers who could do better and are more well- educated. Why God has chosen me to carry the gift of the saints, I count as his gift and I promise to remain a good stewardship for his Body.

May the lord bless you and bless you much to stand with African church in this time of drought and famine that has swept up so many.
The needs in this part of Kenya are overwhelming, and the need continues. We feel like God has asked us to help out in this corner of the world and will continue to pay for the staff at the orphanage, assist students in their school fees, and be part of a continuing effort to salt that part of the world with the invitation to live loved by the Father. If you have some extra to share with these projects, or if you want to know more about this project or the AIDs recovery home we also support in South Africa, you can see our Sharing With the World page at Lifestream. You can either donate with a credit card there, or you can mail a check to Lifestream Ministries • 1560-1 Newbury Rd #313 • Newbury Park, CA 91320. Or if you prefer, we can take your donation over the phone at (805) 498-7774.