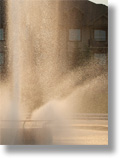 The other day this photo arrived in my inbox. Photographer Kent Lindsay, a frequent listener to The God Journey, said that this photo came to mind as he was listening to one of our recent podcasts, Conversations That Matter. He wrote that he found such peace in this photo because it reminded him that the kingdom of God is an unforced reality that is spilling out in the world and we are merely children letting it fall on us. With his permission, I get to share his photo with you. (You can find out more about his work here.)
I love what he wrote and as I looked at the picture I, too was captured by it and reminded that God's purposes in the world are so much bigger than any of us. Who of us can cap the great force of his love or direct its flow. We certainly don't control it and dare not presume to claim ownership of anything God does in or through our lives. All that's good in the world is simply God's life and love spilling over onto kids, in whom he delights. Is it not enough that we simply revel with him in the moment, and not be tempted into thinking of ourselves more highly than we ought to think?
This may be what Jesus meant when he said, "Unless you change and become like little children, you will never enter the kingdom of heaven." (Matthew 18:3) Participating with God in our world has less to do with personal achievement, but simply being willing to watch for the flow of his love, and play in that reality as circumstances unfold around us. There's great hope and peace in that.