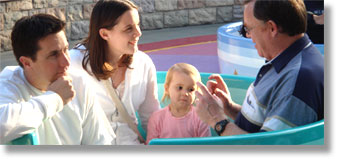 On Monday Sara and I got to spend the day with our daughter, son-in-law and of course our granddaughter Aimee on her first trip to Disneyland! That's us on the left, except for Sara. She gets sick on the teacups, so she did the photography.
I have no idea what we're talking about, but I seem to be the one doing the talking, which is not uncommon. At least the kids look interested, except for Aimee that is. She was anxious for the ride to begin. And she had a ball on that ride. We couldn't spin it fast enough for her as she kept shrieking, "more spin" through her laughter.
I gotta be honest. There isn't much about Disneyland that excites me anymore. I've been enough times that the magic is gone for me. It's just a bunch of long lines and boring rides. We even waited twice in one line to ride Thunder Mountain Railroad, only to have the ride close twice just as we got to the head of the line because of some maintenance problem. Now, that's a bummer! But to live it again through the eyes of my family, was a joy. Sara loves it. Julie loves it and Aimee really loves it! I rode some of the most boring rides in the world, but because it was with my family it was all special. I even rode Dumbo with little Aimee while the others were off riding something more fun. And I think I got the best end of that deal, even though we had to wait in line almost 40 minutes to jump on an elephant!
So on this day the relationships were far more important to me than any ride we were on. That's the only thing that doesn't get boring over time. I love hanging with my family and watching the delight of a little girl just discovering g-forces and flying rides for the first time. To her it was all magic and wonder, and she couldn't get enough of it.
What's amazing to me is I feel that way about my journey in Jesus every day. There is nothing boring about living my life out in him. Just being with him on any given day is life enough and joy enough. And I never know what's coming next!