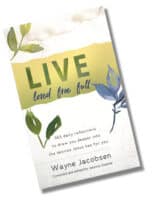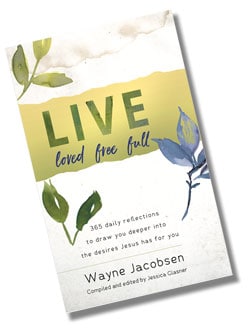 January 18 
Though our flesh can be seduced by the adoration of others, our Father doesn't share the same ego. I know many people who sacrifice the affection of their family for their success in the workplace, but God isn't wired that way. I think he would treasure affection over adoration any day of the week. He is the God of love, remember?
Nyssa's brokenness didn't diminish her father's affection. If anything, her brokenness made her more endearing. We have the tendency to diminish our worship when we are aware of our own failures and weaknesses.
Don't great crowds of adoration always push the so-called "beautiful people" and the "power people" to the front while shunning those deemed "lesser" to the back? But in a father's lap, there are no greater and lesser. Parents delight equally in their children and only see points of brokenness as cracks into which more love can be poured.
Can we dare to believe that our Father sees us the same way Jim sees his daughter Nyssa? I can assure you he loves you far more than that.
But he said to me, "My grace is sufficient for you, for my power is made perfect in weakness."
2 Corinthians 12:9 (NIV)
___________________
This reflection is taken from my new book, Live Loved Free Full. I am running them here because we didn't receive the book in time to ship them before the start of the year. Since all pre-orders have been shipped, we will only do this until January 24. You'll need to get your book to keep reading. You can order your hardback copy from us or get the e-book from your favorite e-book distributors. The Kindle edition is here.