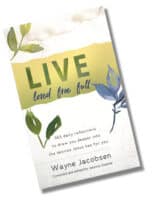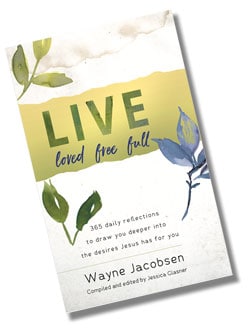 January 16 
"Majesty, worship his Majesty . . ." The familiar words rolled off my lips as I sat among a group of believers from all over the western United States who had gathered to share their experiences in relational church. It was Sunday morning and we were just beginning with a chance to sing songs of praise and thanksgiving to God. I felt unsettled.
Sitting next to me that morning was a three-and-a-half-year-old girl, cradled in the arms of her father, Jim. Nyssa struggles against the complications of Freeman-Sheldon syndrome, a genetic muscle disorder that has caused severe scoliosis (curvature of the spine) and disfigured fingers. She is fed through a tube in her stomach and the disorder renders her unable to talk, walk, or play like other children. In fact, she can only lay cuddled in her father's arms, cooing and slobbering. The connection between her and her father and the love and adoration that beamed from his face as he whispered to her and jiggled her in his arms was mesmerizing.
That's what I want! The words sailed through my mind so quietly I almost missed them. I had to stop a minute and ask not only what I had heard, but where it had come from. Certainly, this wasn't my thought. After a few moments of meditation, however, I recognized Father's voice in it and suddenly it dawned on me why my heart had been so unsettled that morning.
We were exalting God, joining the great throng of angelic beings that surround the throne with praise and adoration to God. He was just wanting us to enjoy a moment in his lap, like that father and daughter; with an intimacy that no moment of adoration could rival.
Yet to all who did receive him, to those who believed in his name, he gave the right to become children of God—children born not of natural descent, nor of human decision or a husband's will, but born of God.
John 1:12–13 (NIV)
___________________
This reflection is taken from my new book, Live Loved Free Full. I am running them here because we didn't receive the book in time to ship them before the start of the year. If you pre-ordered a copy it is already in the mail to you. We will do one more week here and after that you'll need to get your book to keep reading. You can order your hardback copy from us or get the e-book from your favorite e-book distributors. The Kindle edition is here.