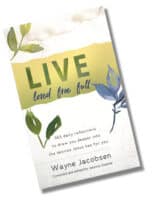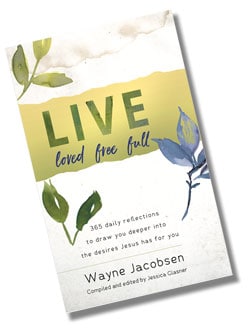 January 15
"I think my dad hates me," she said through her sniffles, choking back the sob that hung in her throat. Then she detailed the fight they'd had the night before. Her dad was upset about the provocative way she often dressed, and she was certain he had no respect for her choices.
I walked her back through the conversation, a surrogate dad who suggested that her father's fears were less about judging her than they were about trying to protect her from men with less than honorable intentions.
"So, you think my dad doesn't hate me?" she asked at the end.
"Nicole, I have no idea. He's your dad, but I would be surprised if he didn't love you very much. However, can I ask how things are with your heavenly dad?"
Her twisted face told me my question had confused her. A moment passed. "Do you mean God?"
I nodded. "I grew up in church," she said. "I hate him."
I smiled as I looked at Nicole and whispered to her as if sharing the most incredible of secrets: "As wrong as you might be about your earthly dad, I can tell you you're dead wrong about your heavenly One."
Her eyes lit up. "What do you mean?"
"Nicole, you have a father who loves you more than anyone on this planet ever has or ever will."
The hope that we all have a Father who knows us completely but loves us extravagantly is all but lost in our day. It might be time to uncover it again.
This is how God showed his love among us: He sent his one and only Son into the world that we might live through him.
John 4:9 (NIV)
___________________
This reflection is taken from my new book, Live Loved Free Full. I am running them here because we didn't receive the book in time to ship them before the start of the year. If you pre-ordered a copy it is already in the mail to you. We will do one more week here and after that you'll need to get your book to keep reading. You can order your hardback copy from us or get the e-book from your favorite e-book distributors. The Kindle edition is here.