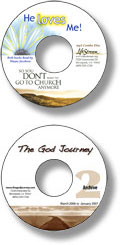 The last few days have been filled with preparing for trips in the next couple of months, including quite a few BridgeBuilders events. I head to Tulsa for the weekend, gathering with some long-time college friends and sharing with the folks at Bread of Life on Sunday morning. This is part college reunion and part spiritual retreat taught by one of the people who greatly impacted my journey at a young age. So, I'm really excited to be going and seeing what Father has in mind. Beyond that I will be in Central California, Nashville, Washington, DC and South Dakota in February and March.
And because so many people have asked us for these, we are releasing two new CDs at Lifestream. We have now placed mp3 files for the audio versions of both He Loves Me and So You Don't Want to Go to Church Anymore on one Audio Book Combo Disc. The cost for this one CD is $14.00 and gives you both books. Both of these are available on our book or audio collections pages.
Also, we've just released the second archive disc for The God Journey. This CD holds the mp3 files for all the podcasts Brad and I did between March 31, 2006 and January 2007. Cost is $12.00. Both of these discs are data discs containing mp3 files and will not play in a CD player. You can however access them by computer, mp3 player and on most new DVD drives. Find out more on our book or audio collections pages.
This morning I have started to read Matthew again in my own readings. It's been quite a while since I've been in one of the Gospels and I'm always excited to get a fresh look at the life of Jesus and how impacted people around him.