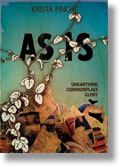 Sara and I are reading together the book I recommended last month, As Is: Unearthing Common Place Glory is a new book by a first-time author, Krista Finch. We are enjoying it and the conversations that follow.
We were really touched by the one we read a few days ago. In the chapter called, "Garage Sale Giving", Krista tells the story of an eight-year-old boy who came up to her at her garage sale and wanted to buy a set of dishes. He gave her $10.00 and lifted the heavy stoneware plates. After she got his change he carried them down the street. Moments later a lady burst from a car shouting, "Can you believe it! He just gave these (dishes) to me for Mother's Day," shaking her head in awe. "With his own money he saved up. Can you believe that?"
Here's how Krista ends that story:
Can you believe it? I asked myself again after the masses made their exodus from my makeshift shop of trinkets. As I packed up the unsold items, I smiled. Openhandedness is an unlikely find, I thought. Especially in a world where acquisition and ambition, self and comfort are the goals. Cheerful and unlimited giving is an unlikely find, except in the heart of a child.

And those who dare to be like them.
I've known moments living alongside people who function with great generosity for each other, and I've known seasons where the people I'm around are grabbing for themselves whatever the can grab. I much prefer the openhanded crowd and want to live there myself.