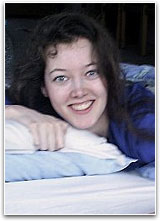 Have I got a book of hope for you, especially if you're going through some very deep waters. It is a collection of poems by a young poet in England dealing with a tragedy in her own life and sorting it out with God in her poetry. Her words are brutally honest, at times playful even in her disappointments, but they are full of life and encouragement. Going through a deep place myself these days I found this book a wonderful encouragement to finding God's love in the midst of excruciating pain and incomprehensible need?
I met Jenny through a book she sent to me when I was near her home in Suffolk England. In it she had written a personal note: "You don't know me but I just wanted to say thank you to you. I've read So you Don't Want to Go to Church Anymore, listened to the Transition series and sometimes manage to listen to The God Journey podcast. They are great and have set me off on a journey and anew way of thinking. It's like discovering the truth that was actually already there in your heart, but hadn't quite realized it yet. Anyway, this is just a small token of my gratitude."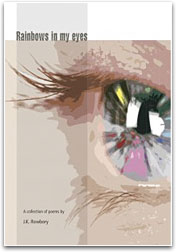 The book was titled Rainbows In My Eyes and you'll have to read the poem called "The Rainbow Bird" to understand why, but that one alone is worth getting this anthology for what it says about the Incarnation and death of Jesus. And you can find out more about the book and Jenny on her website, JKRowbory.co.uk
The story behind the poems is as tragic as the poems are triumphant. On the flyleaf of her book I found the following story:
Jenny Rowbory was born in 1986 in Ashford, Middlesex, and currently lives in Suffolk. During her first year at university in 2004, she became ill with a virus that caused severe M.E. (Myalgic Encephalomyelitis: inflammation of the brain and spinal cord). M.E. affects all bodily systems, causing Jenny to be bed-bound and unable to sit up because of strain on her cardiovascular system. This book of poetry was produced as a result of a Pearson project to support a young, chronically ill poet. The proceeds from the sale of this book will go towards her medical costs.
Though deeply touched by her story, I was not prepared for the poetry within. Most books I receive with a tragic back story like this one usually do not contain writing of this caliber or with this depth of insight. I am recommending the book to you, not out of compassion for Jenny's condition, though I'm deeply touched by her need and now pray for her regularly, but because in her poetry she captures the God I know and the honest place of dealing with suffering in the face of a loving and all-powerful God. She is both playful with God and gut-wrenchingly honest. You'll find in her words language to help deal with your own challenges and desire to engage the Abba Father.
I am clearly not an authority on poetry. I don't write it and rarely read it, but this book touched me deeply and has encouraged my own journey. We wanted to make it available in the States and had copies sent here to help save you the postage charge for overseas transport.
If you live in England or outside the U.S., please order directly from Jenny's website, so that she benefits the most from the sale of her book.
If you live in the United States, you can use the link below to order through Lifestream. The money from sales here will also go to Jenny's medical treatment.
To give you a taste of some of her poetry, I've included three of her shorter ones here
Can't You Be A Magician, God?
© Copyright 2009 by Jennifer Karen Rowbory – Used by Permission

Can't you be a magician, God,
if only for one day?
Forget about being wise and good
and do exactly what I say.

Can't our prayers be spells, God,
if only for one day?
The right words in the right order
and bingo! We'll have our way.

Make me better now, Lord
please no more delay.
I want to force your hand, Lord,
to make my illness go away.

Held
© Copyright 2009 by Jennifer Karen Rowbory – Used by Permission

Pinned here
I kick and scream
try to punch my way out.
But your arms are too strong.

Pinned here
I sulk and ignore you,
try to freeze you out.
But you are too patient.

Pinned here
I spit and abuse you,
try to provoke you.
But your love is too great.

Pinned here I cry,
break your heart with my pain.
But you will not let me go.

Pinned here,
too exhausted to wrestle any more.
In the stillness I see
I'm in an embrace not a headlock.

Christmas
© Copyright 2009 by Jennifer Karen Rowbory – Used by Permission

You are my treasure,
my pearl beyond price.
I forsake all my riches,
my wealth in heaven,
to come and seek you out.