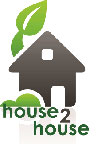 As many of you know I'm not a card-carrying, banner-waver for the house church movement. There are lots of reasons for that. It's not that I don't love relational expressions of church life, especially those that are house-sized. I love that. But I think something more foundational has to shape our hearts before any expression of the church will be life-giving with others. Until people come together to share a real, relational love of the Father we're just going to end up holding religious services in a different venue. Thus I'm incredibly passionate about helping people live loved as the incubator for real church life to take hold.
But I have been invited this year to speak at the House Church Conference that meets during Labor Day weekend each year in Dallas, TX. While I do very little conference speaking, what intrigued me about this opportunity was the fact that they knew I was not a house church advocate and yet still wanted to dialog about the deeper issues of how the church takes expression in our lives. I am looking forward to that conversation. If you'd like to join me in Dallas that weekend, here are the details:
You can get more details about the conference and register here. The theme about infrastructure they added after inviting me to come, so it will be interesting to see how we navigate that together. Again infrastructure isn't one of my passions, but helping people see how they can help or hinder God's work will lead to some interesting conversations as each of us get to sort out what God is saying to his church today. I'm as much interested in listening to others as I am sharing the things God has put on my heart. I think the open and honest exchange of ideas is the kind of dialog that will help us understand more clearly what God is saying to his church.
I am looking forward to this time of sharing God's life together with other brothers and sisters who are actively thinking and praying beyond the box.