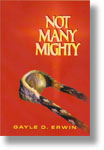 You'll love this! My friend Gayle Erwin (author of The Jesus Style) has just released his latest book Not Many Mighty. Sara and I have been reading bits of it each morning before work and it has been so refreshing.
With his unique sense of humor Gayle retells the Old Testament stories and recounts the foibles of the early apostle, to drive home his point. God does not choose the most deserving people to work through, but common people who have known failure and heartache and who even make lots of mistakes trying to follow him. This book will encourage you cease from your own labors and learn to rest in his while it reacquaints you with a different side of our Biblical heroes than you usually hear.
It's available from his Servant Quarters website. And if you haven't read The Jesus Style yet, do yourself a favor and order that one as well.
Here's an excerpt:
The more we look at the preconceptions of the apostles in the Gospels, the more we realize that Jesus chose a group that we would call losers. Keep in mind that he did not choose these men from the halls of academia. Education of that day was religious schools for Torah stud. Thos who lacked the intelligence or motivation to achiever were released to get a job. So, where did Jesus find these men? At work! These men were somewhere down the ladder in terms of intelligence…

So Jesus apparently chose the apostles to show us whom he could use. That overwhelms me with encouragement. For this inner circle, Jesus chose a group that affirmed the trend we see from the Old Testament—only the weak and foolish need apply. (I Corinthians 1:27)
I'm off tomorrow for a weekend in Turlock, CA and a weekend helping some people focus on the cross! Pray for us if you think about it…