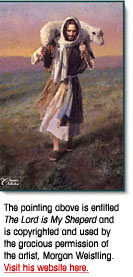 I got some questions the other day from a reader on the role of shepherding in the body. I know others have similar questions to his, so I thought I'd post our exchange here in case it will help other sort through these issues.
I was wondering if I could ask your opinion on something I've heard you make reference to, and seek a bit more clarification. I have heard you make reference to Ezekiel 34 in connection to who is to "shepherd the people" in the New Covenant. That the solution to the "bad shepherds" was not to replace them with "good shepherds", but to do away with that whole system, and that God Himself would be the Shepherd to His people; that "my servant David" (i.e. the Messiah) would be the shepherd to the sheep. Obviously Jesus is the fulfillment of this prophecy, Who professes to be the True Shepherd.

My question is this: There do seem to be passages that assign a "shepherding role" to key leaders in the Body of Christ. Jesus, when comforting Peter after the denials, tells Him to "feed my lambs, care for my sheep, feed my sheep" (the task of a shepherd), and then we have Peter's instructions to his fellow-elders, "Be shepherds of Gods flock that is under your care…" (1Peter 5:2), and in Eph 4:11, where it is said that Jesus gave some to be "pastors" is the same word used of Jesus as the "Good Shepherd".

So while in one sense, it seems we are all sheep to Christ our Sole-Shepherd, in another sense, it seems the Scriptures do indicate that certain members of God's flock share in the role of "shepherd"; that certain "elders" are "under-shepherds" to the Chief Shepherd; that Jesus does raise up certain individuals to be "shepherds" for the sake of the flock.

Can you offer any additional clarification? Is not this Chief-Shepherd/Under-shepherd paradigm what the typical Church System would claim to emulate? And if we do have "good shepherds" caring for the flock after all, how does this reconcile with Ezek 34?
Here's how I tried to answer those issues in a 100 words or less: I agree with what you write here. I think the problem for me comes in how we've applied that over 2000 years, so that the idea of shepherding people no longer carries the sense of reflecting Jesus' care in other lives, but in managing them as a wholly 'other'—the clergy/laity distinction. I know some of that terminology is used in verb form (shepherding as opposed to shepherds in I Peter 5), but there is a marked contrast from the Old Testament to the New as to how the word shepherd is applied to human leaders. No human being, except Jesus is designated as a shepherd in the New Testament. Jesus became the Good Shepherd for all the sheep, promising we'd be one flock with one shepherd.
But I also see that there is a recognition that there are more mature brothers and sisters in this journey who have the calling and equipping to spend a significant part of their time coming alongside younger brothers and sisters helping them get this journey. But to describe that as being an under-shepherd moves away from biblical language and is grossly misunderstood semantically in our day. Shepherds often have a sense of ownership about sheep—'my sheep'. They are threatened by 'sheep stealing' in the body and often treat the 'sheep' as different from themselves. None of that would have been in Paul or Peter's mouths. So I do see this as a semantic problem in part, and also a management problem. To describe institutional leadership in this language definitely corrupts it, putting the emphasis on leading the 'thing', not equipping and caring for lives.
But, yes, I agree that there are elders and other gifts in the body who are a great help to equip, release, strengthen, rebuke, and facilitate the life of the body. I just think if we don't keep the Shepherd definition attached clearly to Jesus alone, others start co-opting his place in the lives of others. This is most often with the best of intentions, but it is no less destructive when people start to follow another human, rather than Jesus…