My oldest brother, Rod, went to college with such a passion to be a missionary to the Soviet Union that he double-majored in Russian and in Biblical Studies. When the iron curtain finally fell, my brother was so hampered by his battle with multiple sclerosis that he was unable to go. He eventually died in 1999, just short of his 49th birthday, after years of praying for the people of the former Soviet Union. So, when I get invited there I make every effort to go in his honor and to love the people he carried in his heart and his prayers for so long. I was in Russia seven years ago and spent the past weekend in Ukraine.
In addition to the Ukrainians that joined us, we were also enriched to have people from Israel, Armenia, Bulgaria, and Moldova, and such rich people they were, too. The hardest part of traveling is how connected I become to people even after only three or four days together.  Leaving is always difficult, not knowing if I'll ever get to see any of them again. This weekend, I was enriched by their faith, played out in the difficulty of a country transitioning out of Soviet domination, while still at war with Russia on their eastern flank. I was amazed at their hunger for the real things of God and the price so many had paid to follow their heart instead of the religious conventions of others.
Since this was only a five-day trip for me, I spoke through the stupor of a persistent jet lag that never allowed me to get a full night's sleep. Often I lay awake at crazy hours and used it to pray for the day ahead. But each time I helped facilitate a discussion, my mind was graciously alert and my heart alive with passion for how I might be able to help or encourage them. The first good night's sleep I've had in over a week came last night after I returned home to my own bed. Surprisingly I slept through the night and woke up wonderfully refreshed this morning.
It is never easy to be with people whose language I don't share. While there were people who would translate for me in personal conversations, I felt like I missed so much depth in the stories they were telling me. I felt like I'm just scratching the surface of who they are and what they've been through. And, of course, translating takes extra time, which means we don't always get to the heart of a matter before someone else comes along and the conversation shifts yet again. Even so, I found my heart touched by their love for God and each other and their desire for a deep and vibrant walk with the living God.
The picture above is of some time around the fire our last night at the camp. Even though I could hardly stay awake as we sang and shared, this picture brings back such rich memories of my time there, the people I met, and the stories I heard of faith and courage.
On Sunday afternoon after the conference had ended, some people took me around the city of Kiev to show me the sights—World War II memorial, where the army gunned down protestors of the government five years ago, a delightful chocolate shop, and a seemingly endless stream of religious buildings with golden, onion-shaped copulas, like the picture below.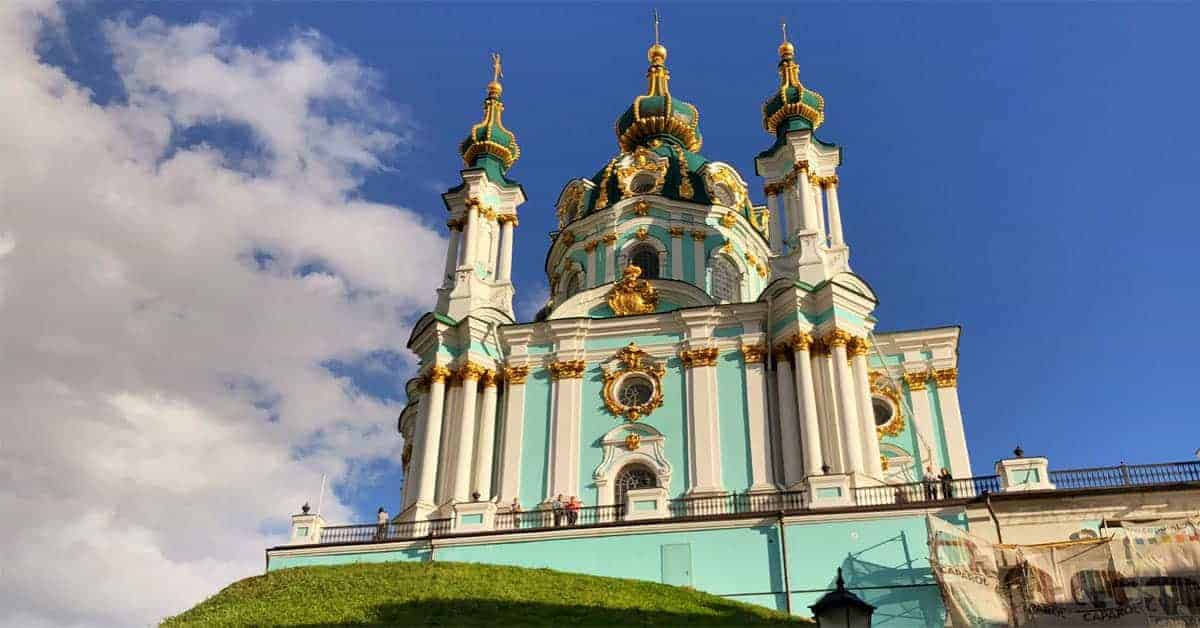 Isn't it tragic, that we call buildings like these "churches", and few people would use that same term to describe the people in the picture at the top of the page? If anything, however, the picture at the top is a far more accurate characterization of the reality of the church in the world. It speaks of people, shared life, relationships, and following God together the best we can.
Like most people, I find the ornate, opulent, religious structures of Europe fascinating in their beauty and architecture. I just cringe when anyone calls them a church, or thinks they represent God in some special way. They don't. If anything, they represent skewed priorities of religious leaders who put opulence over people and power over love. That most were built on the terrified backs of peasants trying to curry favor with God or alleviate their guilt makes it all the worse.
Remember, Stephen was stoned for saying, "… the Most High does not live in houses made by human hands." That reality still makes people nervous today, and makes it difficult to justify the incredible wealth we have (and still do) put into buildings. And yet, if you want to find God, you would be better off looking for him in the people around you than in any building, as impressive as it may be.
With special thanks to my hosts and all the people I got to meet in Ukraine.
---
On an unrelated note, the first of a two-part interview I did with the ladies of Confronting Normal has just released.  It's about community and you can find it here. This is how they described it:
Community is a complicated topic. It's a conversation laced with many layers, a wide variety of interpretations and definitions, and typically, it comes accompanied with a ton of painful baggage and unmet expectations.

But in this episode, Cindy and Renae get the rare opportunity to sit down face-to-face with author, speaker and fellow podcaster, Wayne Jacobsen, as they explore this important conversation from the comforts of Cindy's living room – a fitting location for such a relational topic. Together, the trio share openly and honestly about the struggle and beauty that is community. In the end, they consider that perhaps community should really just be called … friendship.