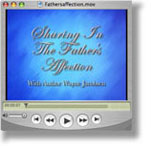 There's something about religion that must terrify people with God in order to get them to live according to what they think are God's rules. That's why religion has to treat God like an angry ruler, demanding conformity or doling out consequences to the disobedient.
Even though we talk about God loving us, most believers grow up as unloved children, trying hard to perform the way they think God expects of them. What amazes me so much about the Gospels is that Jesus came talking about a Father who loves us, who invites us into his house so that he can transform us. This transformation only happens in people who are secure in their Father's affection for them. I think this is the biggest battle that must be won in our hearts to experience the life of Jesus. We have to stop living to appease him as live as the loved children we are. Nothing will transform us faster.
And because we don't know how to live as beloved children of his, we have no idea how to relate to our brothers and sisters. Often we act like competitors, tearing each other down to feel better about ourselves or trying to get to the top of the authority pyramid so we can lord it over others. Beloved children don't live that way. They don't need to. In living loved, they will love in return and experience the fullness of New Testament community without the need for rules and rituals. That's why I am convinced that getting our relationship with God right is far more important than finding a right way to do church. If we do the former it will bear the fruit of the latter. If we don't do the former, nothing we ever do will truly look like his church on the earth.
That's why I'm excited today to post a teaching I gave over a year ago that lies at the heart of everything we share here at Lifestream. Sharing The Father's Affection was videotaped and we've been able to put it into a file that people can stream over the Internet. Though this isn't my favorite kind of venue, it did allow us to get this recorded in video. And this is the most important stuff I share with people who want to discover what fullness in the life of Jesus looks like.
As with most video files, broadband is recommended or great, great patience and a good dial-up connection. And for those without either, we've also included it in an audio-only version.