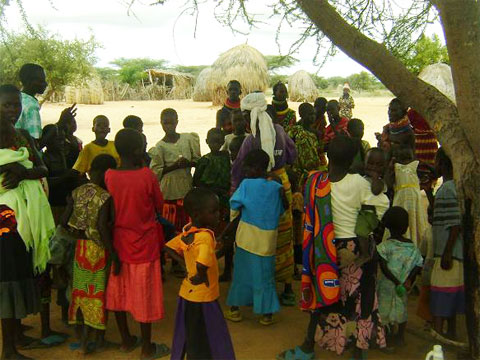 The recent outreach in the north regions
I got an update this week from Michael Wafula, the director of IGEM in Kenya who hosted Kent and I during our recent trip there.
Dear Brother Wayne and the team,

Thank you very much for your prayers and grate support. You have stood alongside our brother and sisters here. We had a trip to northern parts and some parts of Sudan. We thought that the mission would complete easier but the work was extending time to time. As you know the native people cannot communicate both in Swahili and English but their mother tongue. So we had to wait to get the interpreter for their local language, it was the first time for them to hear the Gospel.

We had a long mission to speak like young babies for them to understand the love of God because they believe in their ancestral power. It was very hard to reach this area because there was no transportation. It is about 950 kilometers from the place called Lodwar in Kenya. But we thank God for the vehicle you helped us to purchase, Toyota Land Cruiser. It is so dependable in unreachable areas.

In that areas there is no communication due to lack of network so we could not managed to communicate to the people at home. But now we have arrived (back in Kitale and) we have visited some of the children from the centre.

My son Sammy also was among those who were admitted some days in the hospital (for the malaria outbreak) alongside the son of Hassan and others. The bill was so high of which we are still clearing. Leonard has told me all information including Hassan on how they reach you for help. I would like to say that I feel that we are making you tired but I know God is having his own way and we want to thank you. Even brothers and sisters here send their thanks because almost every family was admitted for malaria. Leonard and other brother are now visiting every hospital to pay bills.

It is my prayer that one time we would build a hospital at least in every region to help the need. Malaria is still a deadly diseases with is claiming more lives than any other known diseases in the world especially this season of rain. Because of this, I have authorized the team to open a ministry account so that when am out or not these account will help the people affected.

I have seen how Leonard has written to you concerning mosquito nets and other helpful materials. So we are announcing and appealing to all IGEM brothers and sisters to donate whatever they have so that we may save the lives of people from malaria and typhoid.

Thank you very much you have done. Send our regards to the entire team, tell them that we love them with the love of Christ.

Michael
The rains have caused a huge outbreak of malaria in that region. Helping with hospital bills as well as procuring mosquito nets is most important now. We continue to channel funds that direction and have had nearly $27,000 donated through Lifestream since I came back from Kenya two months ago. Thank you so much for carrying these dear and desperate people on your hearts. All of that money has gone to them and we will continue to send it along as the Lord provides. Thanks to all who have given. The way many of you have responded to these people you don't even know has warmed my heart and overflowed in great praise to God.
If you'd like to help us continue to support these brothers and sisters and see the Gospel grow in this part of Africa, please see our Sharing With the World page at Lifestream. You can either donate with a credit card there, or you can mail a check to Lifestream Ministries • 1560-1 Newbury Rd #313 • Newbury Park, CA 91320. Or if you prefer, we can take your donation over the phone at (805) 498-7774.