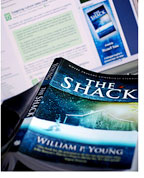 I've always been amazed at how people who hold others to the law are usually in their closeted life the greater violators of it. I thought of that yesterday reading a comment on Facebook from a good friend of mine, Kent Burgess. He was quoting from The Shack:
"Mackenzie," Sarayu continued, "those that are afraid of freedom are those who cannot trust us to live in them. Trying to keep the law is actually a declaration of independence, a way of keeping control."

"Is that why we like the law so much—to give us some control?" asked Mack.

"It's much worse than that," resumed Sarayu. "It grants you the power to judge others and feel superior to them. You believe you are living to a higher standard than those you judge. Enforcing rules, especially in it's more subtle expressions like responsibility and expectation, is a vain attempt to create certainty out of uncertainty. And contrary to what you might think, I have a great fondness for uncertainty. Rules cannot bring freedom; they only have the power to accuse."
I remember working on this portion of the book and how taken I was by a relational reality that would transcend the need for rules and law, because law was the way we sought to manage people without having to relate to them in love. Law, politics, capitalism, and religion all seek to manipulate the law to gain an advantage over others. In that sense most appeals to the law are simple cowardice. By letting an advocate represent their selfish side they can still pretend to be kind and gracious.
In my work with BridgeBuilders I have seen how our legal system completely disowns all that is important to God—love, grace, mutual respect and relationship—and seeks to manipulate the letter of the law for whatever self-interest can be gained by either side. It sustains itself in an environment of distrust and suspicion and rather than seeking common ground it turns everyone into a winner or a loser. But it always sacrifices relationship on the altar of personal gain. Once something goes legal no one cares about the others involved or even the truth of what was said or done, but only how every thing can be twisted to personal advantage.
"It grants you the power to judge others and feel superior to them."
And relationship in the world suffers every time we do that. How easy it is to write or read words like those above, and how much more difficult to actually live them in our relationships with others. Our commitment to relationship is not measured when times are good and we all agree, but where we don't see things the same way.
Hasn't there been enough division in this world between brothers and sisters without adding to it? The last time I got separated from a brother on this journey, I told myself I'd never let it happen again. I'd do everything in my power to fight for the joy of a relationship even if it cost me in temporal terms.
The only problem is, while it takes two softened hearts and a significant amount of time to begin to even taste the beauty of God's kind of community, it only takes one damaged heart and a split second to destroy it. As much as it lies with you be at peace with all men, is how the writer of Hebrews put it. And that's all we can do. But at least let's do that. We need more peacemakers in the world, not those who would look down on others.