If it's not one thing, it's another.
The lack of rain that caused such devastation in the land of Pokot, where we have tried to help over the past couple of years, has now reversed itself and this spring excessive rains have brought a new crisis to these beleaguered people.  We have four coaches in the region helping the people take responsibility to better their own lives and with each project they want to do we match 50% sweat equity on their part, with 50% resources from ours. This is a desperate part of Kenya with no government presence or other NGOs to help with this crises. I am constantly amazed that every one else in the world seems to ignore their plight. We have with God's help provided what little we can to help turn the tide on their conditions. We've been blessed by the many people with third-world development experience who have come alongside to assist us and the thousands of dollars of contribution who touched these people deeply.
All was going well until this new calamity arrived brought on by the flooding.  I got this letter the other day from the brothers in Kenya who we work through to help bring new life into Pokot.
Dear brother Wayne, receive more greeting from the coaching team in North Pokot, they appreciate also for there monthly support.  They are doing excellent work. In East Africa , there is a lot of rain even the North pokot has been affected much for the first time with heavy rain. This has contributed more the calamity of many diseases like typhoid, malarial and common cold, so the coaches and the committee has appeal an emergency camp medication for more than ten villages, which are more affected. So brother wayne we have talked with the coaches to pray so that we send this urgent need for medical camping.

So if you can help them with the drugs and help additional of nurses , IGEM volunteers about 14 are ready to go assist for medical camping of two weeks in those ten village. We could not wait to put this in the budget on 22nd but it is urgent need. Many house in kenya are been swept the flood especially in western and Kitale region.

We have called the doctor and have estimated that we need to purchase drugs , fuel transportation, accommodation for doctors and nurses (tents, Blanket and mattress and food).  This is urgent need for now, we need to go there soon as God's provides.
In the last week we have added an additional $11,000 to meet this need, in addition to the regular support we are sending to help the villages.  Volunteer doctors and nurses from Kitale are in that region now, staying in tents and sleeping little more than three hours a night because the need is so great. They are also trying to get the government to provide mosquito nets to help with the spread of disease.
Here is their report from the first few days on the field:
Our doctor's and nurse were so busy treating the sick in North Pokot, there are huge number of people suffering with Malaria, typhoid, leumonia, chronic malaria, there is no hospital within this place and from here to reach our hospital is appromately 50KM , which is very far and when outbreak come there is no other way of saving life. The places are in the bush. The community committee which we selected last year assisted by our coaches has paved the way in order to reach there with the vehicle and beyond other interior villages, our volunteers need to walk carrying the supplies.  Right now we are with ten villages which are more affected and the mobile camping need to take place for six months time to curb down the diseases, then from there we will see what God has done. But our volunteers since all of them cannot stay for all of that period, but they have agreed to work in periods to relief others. The challenges we need also to cook for those who are total sick , so that the drugs can work well, so pray with us for the food while we are in the mission field because it force our volunteers to give the food which are supposed to be used by them.
And some pictures: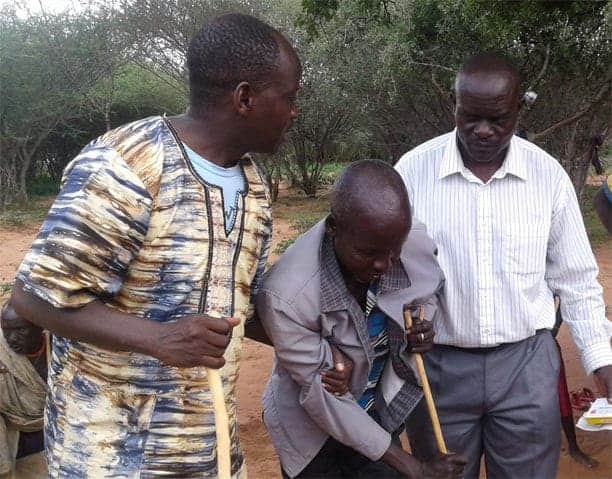 Bringing the sick to get help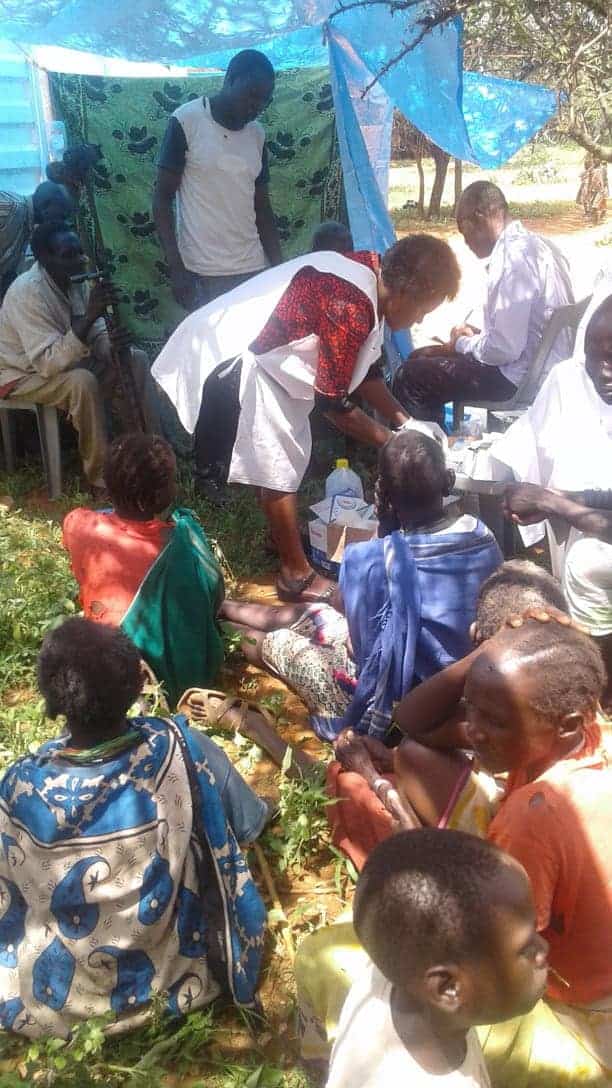 Triage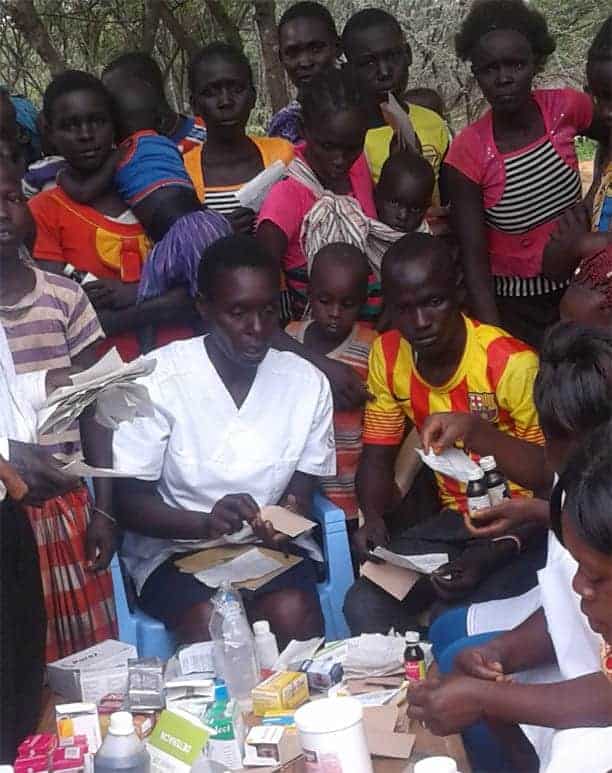 A lot of interest around that table.
If you want the backstory on our work in this part of Kenya, you can read this blog that gives a short view of God's work in linking us up with their need, and people there who are ready to help meet it. If you have extra to pass along for the people of West Pokot you can direct it through Lifestream as contributions are tax-deductible in the US.  As always, every dollar you send goes to the need in Kenya.  We do not (nor do they) take out any administrative or money transfer fees.  If you would like to be part of this to support these brothers and sisters and see the gospel grow in this part of Africa, please see our Sharing With the World page at Lifestream. You can either donate with a credit card there, or you can mail a check to Lifestream Ministries • 1560 Newbury Rd Ste 1  •  Newbury Park, CA 91320. Or if you prefer, we can take your donation over the phone at (805) 498-7774.