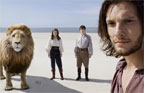 Last week Sara and I went to see the new Narnia movie, The Voyage of The Dawn Treader. The book it is based on is my favorite in the series, especially for Reepicheep's humorous, sometimes reckless, but indomitable spirit. I was looking forward to this movie and overall I was not disappointed. It's beautifully shot, the new Eustace actor is perfect for the role, and I love it when Aslan sneaks into camera range. Much of this movie I really enjoyed, but like the others in this series there's something about it that doesn't quite draw me in as deeply as I wish it would. They still come off a bit stiff, the special effects forced, and without the heart I found in these books. I guess the movies of "The Lord of the Rings" set the bar pretty high for me. Still, it's well worth seeing.
Toward the end of the movie as the main characters stand at the edge of Aslan's country contemplating whether to go further, or stay in their respective worlds. At that point King Caspian offers a breath-taking observation, "I've spent too long wanting what was taken from me and not what I was given." It hit me smack between the eyes. There are two ways to live in this world, either being thankful for what God has given you, or growing in bitter frustration at what you've lost.
We've all lost stuff living in this darkened world. Some lose their innocence through abuse, a place in ministry because of betrayal, a part in business because of a dishonest colleague, a marriage because of unfaithfulness, or a hundred other things. The enemy thrives in our world to steal, to kill, and to destroy and can seem to find no end of humans who will cooperate with him in that passion. None of us our immune and thus our lives have painful moments as well as joyful ones.
Focus on what you've lost in this world and you'll become a bitter person, driven to destroy others in your misguided attempt to get what's fair. Focus on what you've been given by God, however, and you'll understand the true joys of heaven. Maybe some of us we have wasted so much time and energy focusing on what we've lost, that we've lost sight of the gifts he has given us. If Jesus' life taught us anything it's that there is still much life, grace, and love even where others seek to exclude us, lie about us, and persecute us.
When you focus on what God has given rather than the things you've lost, you can know great joy and gratitude even in the painful realities of the age we live in. God is the redeeming influence in your life, not the destructive one. Those who seek your destruction are pawns in the hands of a diabolical enemy. As painful as they can make our lives, God is bigger still. He can even turn our losses in this age into a treasures far greater by making himself known in the midst of our pain and disappointment.
True treasure is not in the material things of this age anyway. I don't understand people who use material reward as the bottom line for their actions. Last week the sports writers in our country were incredulous that a baseball pitcher gave up an offer from the New York Yankees to play for another team at $40 million dollars less than the Yankees offered him. The lead story here for everyone was what he gave up. People thought he was stupid for not taking every dime off the table that he could have. Their compass is only set by maximizing income. The pitcher was more concerned about being on a team he would enjoy playing for. Lost in the story was that he was offered $100 million to play for the team that he wanted to play with. Sure he could have had more, but there are lots of things that aren't worth trading your pwesonal well-being to have.
Just how much money does it take to be happy anyway? A recent study in the U.S. said that it's about $75,000.00. As people's income rises to that point their personal sense of happiness increases. They don't have to worry about the necessities and have enough left over to enjoy. But the study also showed that happiness decreased as income increased beyond $75,000. I thought that was fascinating. More money doesn't make people happy. Above $75,000 the stress of protecting it, keeping it, managing it, and the complication it brings into real relationships became destructive to the well-being of the people who have it. I know that's hard to believe. Most in our culture believe that the more money they can get their hands on will only add to their joy. It is not true. Money is not what really matters in life.
I have found a fresh joy in no longer whining about the things I've lost. Life in this age is filled with loss. Like King Caspian, I want to enjoy the things God has given which do not rust away and cannot be stolen by the enemy or his pawns.