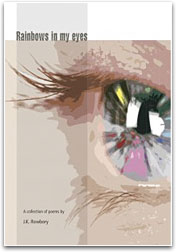 Last summer when I was in England, I stumbled upon this little book of insights and inspiration from the journey of a young woman who had been struck by a debilitating virus while studying at the university. I was taken with her observations about learning to live inside Father's love even when we can't understand why he is not intervening in our circumstances in the most significant way we think he should. Her story and her insights are compelling. Sara and I have been giving her book to people we love going through difficult moments in their lives.
I thought about this book the other day as people are still trying to find that small, special Christmas gift for a good friend that will warm their heart into the new year. Rainbows In My Eyes just might fight the bill for some of you, too. By clicking on that link above you can read my thoughts on her book and even some examples of her poetry.
Now, I know some of you are scared of poetry, but I don't think you'll be disappointed here. But through the Christmas holidays we are offering this book at a special discount price. Normally $10.50, we are offering it for $8.00 plus postage. Unless you're planning to order priority mail, however, you might want to order yours this week if you want to use it as a Christmas gift. You will find this book either an inspiring and wonderful read for yourself, or a wonderful gift to give to a friend. not just this season, but any time you have a loved one sorting out their walk with God in a dark season.