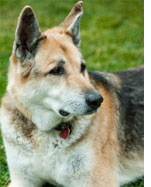 Our hearts have been really sad around here the last few days. We lost a dear friend. For 14 years she brought such joy, companionship, and unbridled affection into our lives. Our daughter was a senior in high school when this puppy moved in. She has lived with us in four different homes, and relished the addition of two new grandchildren. She has been a delight and God has taught me much through the simple love and trust of this dog. I totally get how much dogs reflect his glory.
Saying goodbye has not been easy and the hole her passing left in our home is a huge one even though this has been a long time coming. Her health has been fading for some time and before every trip I took this last year, I've told her goodbye, not expecting to have her here when I returned. But she somehow kept hanging on. Finally on Sunday she literally could not take another step. Tears well up in my eyes whenever I think of her, which I do a lot. I used to try to run from grief by ignoring its cause. Now days I embraced it as a counterpoint to times of joy. The grief I have at Sierra's passing is only because she was such a treasured part of our lives for so long. I've concluded that grief is good. It is part of saying goodbye and it is incredibly healing. And the love of many of our dear friends who appreciate our loss has been helpful as well.
Yesterday I received an email from a dear friend whose family is going through some grief of their own. He was on staff at a fellowship that over the last four years, at the Lord's direction, has been dismantling all the structures that defined their life. Recently they sold the building and held their last gathering there over the weekend. He mentioned how sad how children and wife were, that there were so many great memories attached to that location. I get that! It's wonderful to have so many memories of good times with God's people. Saying goodbye doesn't always mean something is wrong, but that it's time has come to an end, and new possibilities await.
I know it is rough to let go of something or someone we deeply loved or enjoyed, whether it was our choice to lay it down or death ripped it from our hands. We can be sad leaving wonderful things behind, but that doesn't have to deter us from pressing on to what Father has next for us. People who live to avoid future sorrow miss out on so much of life. Our joys today may well turn into the losses of tomorrow, but those same losses open up space for new things and new relationships to come into our lives.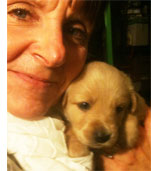 I remember when our first dog died 21 years go. I swore I'd never get another dog, that the pain of losing her wasn't worth it. I've been through this enough times to know that the joys far outweigh the pain. Not only will we embrace the pain of losing Sierra, but we went to see a litter of golden retrievers last night and picked out a new puppy to grace the Jacobsen home. She's only four weeks old, so we won't get her for a couple of weeks, but we're already preparing to add her to our family.
Life goes on. A new chapter opens, a new pup becomes part of our heritage, and the empty space Sierra left will be filled. The new one won't replace Sierra, we will still have her memories in our heart, but we are ready to make some new ones, too. If our first dog hadn't died, we'd never have had Sierra, and I wouldn't have missed her for the world.
Perhaps the greatest danger to our journey is not the difficult times but the good ones. They invite us to pitch our tent where God only invited us to pass through. Some try so hard to hold on to their past, or are so hurt when things change, that they resist change as a bad thing. Grief is a great thing. It's part of celebrating a treasure and letting go of it. Then we are able to walk on into the future knowing all not lost and that God still has some wonderful things to share with us as the journey continues.
And for you dog-lovers, someone sent me this clip. It's a great reminder that God put dogs on the planet to reflect a bit of himself to us!