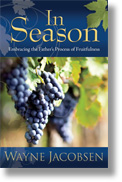 Working on In Season: Embracing the Father's Process of Fruitfulness over these past few months proved to be an incredible experience for me personally. Since I was working with material that I wrote over twenty years ago it gave me a glimpse of the process God has used in my own life. I thought I had so many answers back then, but soon discovered I wasn't even asking the right questions at the time. I express that in the Introduction I wrote for this edition.
A Personal Time Warp

I do not consider myself yet to have taken hold of it.
But one thing I do: Forgetting what is behind and
straining toward what is ahead, I press on toward the goal to win the prize for which God has called me heavenward in Christ Jesus. (Philippians 3:13-14)

I'll admit I have a problem. I can't just rerelease another edition of a book without tinkering with it.

I see life as a journey, and any book, audio, or article is just a snapshot of that journey. So while what I wrote twenty years ago was the best I knew then, God's work has continued to shape my life. I would not write the same book today. So putting out a new edition of a book I wrote in the distant past, even if it was one of my favorites, is not as easy as simply sending it to the printers again.

I knew the book needed to be changed. What I wasn't prepared for was how much it needed changing. As I read it over I knew printing it as it was would be like posting my high school photo on my home page. Sure the resemblance is there, but I don't think anyone would see that photo and know immediately that it was me. I have changed a lot since high school. And I have changed a lot since I wrote the first edition of this book.

I've often wondered what it would be like to have a conversation with a younger me. What if I could warp time, go back twenty years, and sit down in my old pastor's office with the person I was back then. Would we even like each other? Would we be able to communicate? Would the younger me recognize the current me?

While I was rewriting this book, I had the chance to experience a bit of that sort of time warp. Much of this material was originally published in 1991 in a book called The Vineyard. That book was republished in a couple of different formats. Some of it was put into a coffee table book titled In My Father's Vineyard and some of it was repackaged in a book titled Tales of the Vine. Those books have been out of print for some time and many people have been asking if I was going to republish my material on the vineyard. As I started through those books again, I wasn't prepared to meet the Wayne of twenty years ago who wrote and thought very differently from the Wayne I've become in the intervening years.

While still embracing the content of the book I wrote, I had to cringe when I read my own words. They sounded more like the fiery preacher of my former days—the one who talked down to my listeners from a pulpit. I was constantly setting a high bar and pushing them toward it (as if our own human effort could ever bear the fruit of our Father). I hope that now after some reworking, it tenderly encourages you to find Jesus in the reality of your life today and find the grace to follow him as he shapes your life to be fruitful and fulfilled in him.

As I reworked this material, a powerful theme emerged that highlighted the seasonal element of our spiritual journeys. We tend to conform our lives to obligations that do not fit what he is asking of us, instead of appreciating the process of fruitfulness that allows each of us to be free in our journey to follow Jesus as each day requires.

Many believers I know live as though it is always supposed to be harvest time and they grow frustrated when their lives are not as fruitful in other seasons. If harvest is our only expectation, then we'll despise the days when Jesus shapes our lives in the relative stillness of winter, or holds us in his hands while we face the heat of summer, bringing maturity to his fruit in us. Vines are never frustrated with shifting seasons. Each one is essential to the cycle of fruitfulness that God invites us to embrace.

As a farmer's view of John 15, this book touches on the deepest themes that have defined my life, while also drawing from the fondest memories I have of growing up on my father's vineyard in central California. That may sound more spectacular than it was in actuality. Today vineyards are marketed as romantic tourist destinations, but for those who live on them they are a lot of hard work.

During summer it is hot and dusty as the farmer cares for the vines or harvests the crops. In winter the labor can be cold and menial as he prunes one row of vines after another. Nonetheless it was in those fields that my young life was shaped. It was in my father's vineyard that I learned so much about God and life. There I learned the nobility of an honest day's work, of the joy in a job well done, and what character and integrity really mean. All of these lessons have served me well in the forty years since I've left that farm.

It took far longer to rewrite this than I had planned, but I hope the result will set you free to live deeply in the Father's life and flow with his working, whether he is pruning you in the rest of winter or developing fruit in you that he can share with so many others.

Who knows, I may have to rewrite it again in twenty years and take more of the old me out yet again.
In Season will be in hand on November 8. In fact, they were just printed this morning. If you'd like to order your copy, you can do so here.
Now I'm off to Omaha for the weekend. Looking forward to what God has in store there.