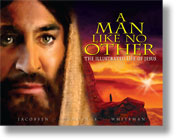 Just released from customs, A MAN LIKE NO OTHER has arrived at our offices, and Sara is busy getting out all the pre-orders. This is an amazing unveiling of the life of Jesus in both art and prose. I have enjoyed carrying my advance copy with me on my two recent trips and watch as people thumb through it and are captured by the paintings that Murry Whiteman created. If you missed our earlier blog that showed some of the layouts, you can see them here. I am excited to finally share this project with you and hope that it will be another tool to help you know who Jesus is and how he came to engage us in a transforming relationship with his Father.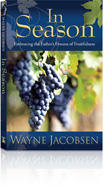 And coming from the category of when-it-rains-it-pours, we have also learned that copies of Wayne's newest book, IN SEASON, will be arriving by truck tomorrow. So we'll be shipping those orders as well. Pray for Sara. There were an awful lot of pre-orders of both titles.
We are also finishing up the e-book files for IN SEASON and will soon have it listed on our website as well as at Amazon and Barnes and Noble.
And if you like what you see and want to buy them as gifts for Christmas, or any other reason, we will be announcing bulk pricing and full-case prices over the next few days. If you are interested in that now, you can call our office for more details. (805) 499-7774
You can order them from Lifestream Ministries as well as the new JESUS LENS DVD. We sent two dozen copies of THE JESUS LENS to our brothers and sisters in Kenya and have been greatly encouraged by the reports of how it has touched the people there. There are over nine million believers involved in the network of believers that we have been working with. They have sent those copies out to numerous countries in the region and are busy copying them to share even wider.
These three projects have taken a lot of my time this year and it is wonderfully rewarding to finally make them available and get early reports from people that they are as touched by these resources as we were in producing them.