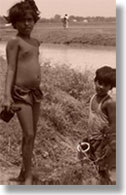 Last week a local university hosted a Hunger Banquet in association with Oxfam America, a nonprofit international development and relief organization with the mission of creating lasting solutions to global poverty, hunger and social injustice. Only a handful of those who attended came away well-fed. Most went home hungry and that's exactly what the organizers wanted.
The dinner was designed to highlight the vast inequalities that exist around the globe in the distribution of food and wealth. Sixty people attended the banquet. Fifteen percent were given a three-course meal on a linen-covered table, complete with silverware and utensils. Twenty percent were given 'middle income meals' consisting of some beans, rice and a glass of water. Like their wealthier counterparts they had chairs, but no table. Most of those attending, sixty-five percent sat on the floor and were fed only some rice and water. They had to eat with their hands.
Think about that the next time you sit down to eat. The vast majority of us reading this blog are in that 15% that has way more than we need. And we probably spend more time frustrated by things we want rather than concerned over those who are starving to death or being slaughtered in tribal genocides. Especially for the U.S., where we are only 5% of the world's population yet consume over 25% of the world's resources.
When you wonder why people in impoverished countries overseas are angry at the U.S., this is much of the reason. How would you feel if you put your children to bed each night watching them suffer in malnutrition and disease if your neighbors were were feasting on steak and running around in their Hummers?
I don't think such inequities exist in our world because the wealthy are so callous, but because we cannot maintain a grasp on the disparity of our world. It can only exist because we don't eat every night in the same room and have no sense of the incredible abundance we have and the desperate need that exists elsewhere. And when we do, we don't have the foggiest idea what to do about it.
But maybe this is something some of us can have some prayer and dialog about. I know my heart is increasingly touched by my awareness of my abundance in the face of the hunger and violence in the world. Undoubtedly it is a result of the fruit of the chaos of creation due to the sin and selfishness of humanity, but that we doesn't mean we should blindly enjoy our own good fortune while ignoring the plight of brothers and sisters around the world.
And I'm talking way beyond charity here for the poor. I love this quote by Eduardo Galeano, a journalist from Uruguay:
"I don't believe in charity. I believe in solidarity. Charity is so vertical. It goes from the top to the bottom. Solidarity is horizontal. It respects the other person and learns from the other. Most of us have a lot to learn from other people.â€