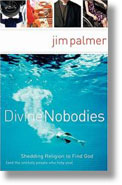 What does a Hip-Hop artist, Waffle House waitress, tire salesman, and disabled girl have to do with discovering spiritual truth? What if embracing authentic Christianity is a journey of unlearning? Welcome to Jim Palmer's world!
Last spring the publisher sent me an advance copy of a book titled , Divine Nobodies, hopeful I would find it worthy of passing on to others. I mentioned it on one podcast and have just been notified that the book has been released. The author used to be a mega-congregation staff guy and is now discovering life beyond the big-box with greater joy and reality. I think many of you will enoy this book and the stories it weaves of the most unlikely characters God uses to teach you more about him and what it means to live an authentic life in him.
I wrote a blurb for the publisher that expresses as well as I can what this book meant to me. I understand they used it on the back cover.
"You hold in your hands an amazing story of a broken man finding freedom in all the right places-in God's work in the lives of some extraordinarily ordinary people around him. You will thrill to this delightful blend of gut-wrenching honesty and laugh-out-loud hilarity, and in the end you'll find God much closer, the body of Christ far bigger and your own journey far clearer than you ever dreamed."