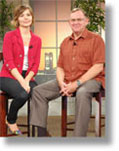 I'm just finishing up a weekend-long conference with a congregation here in Karlsurhe, Germany. There are also a lot of people who've driven a long way to join us this weekend. I love the hunger I'm seeing as we're talking about the process of how Jesus grows our trust as we learn to live-loved. This is about truly living by faith, not as something God demands that we conjure up for him out of our own effort, but that which is produced in us as the fruit of our growing relationship with him. I love this stuff!
Many have asked about the appearance I did for Grace TV that I taped during my recent trip to Ontario. I've just been informed that the interview will air on Monday, Oct. 15, GTV at 9:00 PM Eastern Time (6:00 pm Pacific Time) and again on Friday, Oct 19 at 9:00 PM Eastern Time (6:00 pm Pacific Time). That's a picture from the set at left, with Megan, the producer of the show and the one who did the interview. In this interview I talk mostly about HE LOVES ME and the joys of this journey helping people live loved and she asked some interesting questions that led to some answers that even surprised me.
The TV network airs on their network and you can view it here. After the air dates you can also view it in their archive.