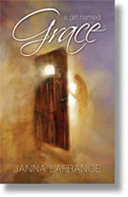 I've known Janna LaFrance and her husband for the past ten years, having met them in Stratford, Ontario during a trip there with my wife and continuing through over the years. They have been on an interesting journey to say the least, through pain and disillusionment with organized religion, the tragic death of their firstborn, and numerous other challenges. But through it all they have continued to find their way into the healing and freedom that only Jesus can give. I've been blessed to watch that story unfold.
A few years ago she started to write a book to illustrate the power of grace in the midst of tragedy. It has just been released. The title is, "A Girl Named Grace" and tells a powerful tale of tragic loss that only grows more painful as more facts come to light. As she descends into overwhelming darkness she thinks she hears a voice, but has no idea whether she's going mad or finding hope. In the midst of it all, grace she wasn't even looking for finds her and opens a wide door into a world Grace never knew existed.
I don't recommend books just because someone I know and appreciate has written it. To be true to my readers, it has to bee a book I think you'll care about. This is a compelling read and rings with the authenticity of someone who has known the pain and been transformed by grace in the midst of it herself. Janna has lived these realities, and has now put them in print to encourage others who are looking for a voice of hope in the midst of great loss. Though women will probably relate more to this book than men, there is a great story here for everyone, and some powerful images of love and forgiveness. I've had the joy of peaking over her shoulder for the past couple of years as she was crafting this story and getting it ready for publication. Here's what I wrote as an endorsement on the back of her book.
"Grace finds herself in the mind-numbing despair of an unfolding tragedy, only to discover that help comes in the most unlikely way. A Girl Named Grace is a compelling story of personal transformation in the midst of incredible pain. As Grace sorts out her story, you may just find yourself sorting through your own."
—Wayne Jacobsen,
And here are a few excerpts from her book:
It was as though she had known Him her whole life and was more comfortable with Him than she had been with anyone she had ever known. He had no secret agenda or intention of taking anything from her that she did not offer. He would not hurt her or force her to do anything she did not want to do. In the deepest sense of the word, He loved her.

"This happened because life simply took its course. That humans will fail you is inevitable. How they fail will vary tremendously, but they will fail. They were never meant to replace Us. When a man or woman replaces Us as the source of life for you, it is only a matter of time before the well dries up and you are left disappointed, or worse, and are forced to go elsewhere…"

"Again, rather than her anger pushing Him away, He seemed to somehow come even closer. "Grace, I am the source. I love to flow through My children. I love to flow through fathers to their children and through husbands to their wives and through friends and strangers and children. What must change is your perception of where the life-flow is coming from. If you know that it is Me, even when others fail you, you will simply see through them and into My eyes. You will begin to recognize My voice when others speak My words to you. You will begin to sense My heartbeat in the actions of others, when they are being inspired by Me."
My friend, Dave Fredrickson of Family Room Media also had a chance to review it. This is what he said:
"This is one of the very few novels that have captured my heart and brought tears to my eyes. Each page unveils a love story that lured me far beyond the shallows of romance into the depth of the Father's heart. The timeless theme skillfully weaves itself around an engrossing plot like poetry on a mission to shatter false illusions and reveal true identity." —David Fredrickson, author of When the Church Leaves the Building and helped write and produce the video series Church Outside the Walls.
Janna will talk more about her book on the October 19 podcast at The God Journey, but the book is available now. You can find it on Janna's website, and at Amazon.com. You can also read the first chapter if you like, on Janna's blog.