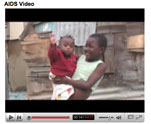 I guess this is a milestone. This is the first YouTube link I've ever put on my blog. But you will be deeply touched by this. An outreach team from New Jerusalem Mission (see below) just returned from a trip to Central Africa and here is a video that some on that team put together. It is not like any other video you've ever seen about this crisis and how you can help. Listen carefully to the words. You will hear amazing words of life, such as,
Sometimes in an effort to remind people of the cost of the cross, we withhold grace until we are sure they understand their sin. But it is in giving of our grace that we remind people that they need to go to Jesus to find their own. People understand their sin without our help. It's grace they need help in understanding.
I've not heard it put any better. Just hearing it gave me chills. This is how we are called to live in the world in the face of all kinds of human need and suffering.
If you're a regular reader of this blog you know of my link to the AIDs mission based near Wichita Kansas, New Jerusalem Missions. They are not only preparing a live-in facility for those living with AIDs, but teams from there are doing training and mercy missions around the world including Africa and China. If this is your passion, join them. If you can't join them and have some extra dollars around, send it to them! They operate on the shortest shoestring I've ever seen. They are frugal, responsible and giving themselves wholeheartedly to the task God has given them to do.
And whether you can join them or not, share with them financially or not, let's all live this way in the world.
People understand their sin. Let's help them understand grace!
Yeah, Baby!