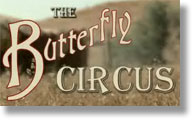 Someone sent me this link today and I was met with an incredibly inspiring movie of how believing a lie can devour our lives, and discovering the truth can transform even the most painful circumstances: The Butterfly Circus
I have no idea who is behind this, or what their intended meaning was. I can't imagine that it wasn't a redemptive portrayal. At least that's how it resonated with me. This touched me far more than Avatar, for which I paid far more.
ADDED NOTE: I guess I do know these people. Just found out from Brad, my partner over at The God Journey that he is involved with the folks who made this movie and they are dear brothers and sisters with a passion to tell powerful stories of God's work in the world. So, for those of you who think Brad and I share everything with each other, it's pretty clear we don't. I had never heard of this before today and am so blessed to find out that I'm only one degree of separation away from those involved… How cool is that?