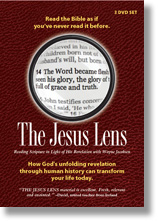 We have just received the first order of The Jesus Lens DVDs. And hopefully we'll soon have the sit active that will post those videos as well. We'll announce when that is read.
Right now we're going to fill the orders for so many of you who ordered in advance. You should be receiving your DVDs over the next week or so. If you haven't ordered it yet you may do so from our website.
You can also hear the audio and read more about this project here.
Here's what some people are already saying about The Jesus Lens:
THE JESUS LENS material is excellent. Fresh, relevant and anointed.
David, retired teacher from Ireland

I love everything about it, especially what you said about the Bible
being a love letter. This has breathed new life into my Bible reading!
Julie, mother of three in California

These sessions opened up a fresh way of looking at the Scriptures as
God's unfolding love story through the lens of His Son, Jesus.
Barry, retired military in Virginia

I feel like I've been handed a missing piece of my heart. (The Bible
has often been just another source of shame. Now I can see how God is
restoring it to its proper and useful place in my life.)
Susan, former slave of shame

THE JESUS LENS is an incredible look at the Scriptures. Having read
the Bible all of my life, this teaching has endeared me in a whole new
way to the amazing story of my loving.
Dawn, a member of the studio audience