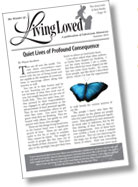 BodyLife has now become "Living Loved." Our latest Living Loved Newsletter has just been posted at the Lifestream website. We will still deal with church life issues and concerns from time to time, but the newsletter has always been about so much more. The latest issue has just been posted at:
https://www.lifestream.org/current-issue.php
(If this URLs does not show up in your email as a link to our site, just copy and paste it into the window of your browser and hit 'return'.)
The title of this issue is, Quiet Lives of Profound Consequences, and talks about the crying need in our world for men and women who have learning to live loved by the Father in their own lives and are now ready and willing to help others learn to live in that reality as well. These are true elders in Christ's body and there is a crying need throughout the world for people who can help others embrace this journey with grace and wonder.

Also you'll find information on three new resources by Wayne that Lifestream will be releasing this Fall. The Jesus Lens is an 8 hour DVD series designed to help people read Scripture with greater joy and wisdom. A Man Like No Other: The Illustrated Life of Jesus, a book co-written with Brad and framed by paintings from the Gospels by Murry Whiteman. And finally, In Season, Embracing the Father's Process of Fruitfulness, which is a re-packaging of Wayne's look at the parable of the vine through his formative years growing up on a vineyard. You'll also find letters that will encourage fellow-travelers, a book recommendation for parents of prodigals, and other Lifestream News.
You can read it online, or print your own downloadable version. We hope it inspires your own journey in drawing closer to Jesus and reveling in his life.