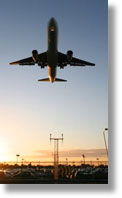 Well, I'm off again to the upper Midwest. I'll be in the Chicago area and then into Wisconsin over the next few days meeting with two communities of believers I've never met before. I always look forward to seeing what God might be doing in such locales. There's an anticipation in my heart about what might be ahead this weekend.
I am also reading through George W. Bush's Decision Points these days. As many of you know the Bush presidency was one of the greatest disappointments in political affairs. He came into office talking about being a uniter and not a divider, and then had one of the most divisive administrations of my lifetime, just like the president before him. But I always want to hear a man's story from his side of things, and not just as he was filtered through the media. The book had been interesting, though I am sad at many of the decisions he ended up making.
I did like this quote when talking about his growing up in the love of his parents:
"When you know you have unconditional love, there is no point in rebellion and no need to fear failure."
While I don't use the term "unconditional love" myself (because I don't think there is any such thing as conditional love), I understand what people mean by it. To be truly loved just for who we are is the place where transformation begins. Real love disarms the need for rebellion, because it doesn't seek to control. And real love is not based on performance so you don't need to fear failure.
Imagine if all God's people knew that reality about his love! There's no need to seek your own way, when you realize how loved you are. And you don't have to be afraid of making decisions because he is going to love you through your failures. And there is no mistake you can make that is so big that Jesus can't be in it with you to redeem it for his purpose.
I honestly believe this is the kind of freedom Galatians 5 is talking about. It isn't the freedom to indulge my flesh, but the joy of living in the reality of his love and that alone will disarm all the lies and appetites of the flesh…