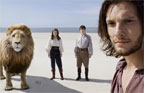 It's back to California tomorrow. I've had an great time hanging out with a community of young people near Chicago and now in southern Wisconsin with brothers and sisters who are on this journey. It has been a lot of fun.
A few weeks ago as I flew out of New England, the movie on the plane was the new Narnia movie, The Voyage of The Dawn Treader. I enjoyed keeping an eye and ear on it while I was reading some other things. I already referred to one of the lines in that movie that touched me in a previous posting.
I noticed another one this time around. It was advice given to the voyagers by one of their counselors on their journey.
"To defeat the darkness out there you must first defeat the darkness inside yourself."
Why is it almost always true that when God shows us something about ourselves our mind first focuses on all the other people around us who should know this too? It is almost as if we use up our passion for what God says by trying to make others see it, before it has borne fruit in our own hearts. Is this why we are always seeking to remove the sawdust from someone else's eye instead of taking note of the log that is in our own? Any time you're trying to force your will on someone or convince them to embrace your insight, you might consider that you are taking on darkness in the wrong place.
When the light of God shines into your heart, embrace it. As long as I'm battered by doubts, driven by fears, and tormented by a false need to perform in my own righteousness, my freedom to help others will be limited. And that will mostly happen not by confronting the darkness in me, but embracing the light that is in him. The more preoccupied with who he is, the freer I become from the twisted places in my own heart. This is the joy of learning to live loved.
He first wants to take shape in us before we try to help encourage others. And what I'm finding is that the more he takes shape in me the less need I have to shape others. If we can't let him defeat darkness in us, we'll be of no use helping conquer darkness in others.